Testosterone modulates cardiac contraction and calcium homeostasis: cellular and molecular mechanisms
Biology of Sex Differences
2015
6:9
Received: 28 January 2015
Accepted: 27 March 2015
Published: 29 April 2015
Abstract
The incidence of cardiovascular disease rises dramatically with age in both men and women. Because a woman's risk of cardiovascular disease rises markedly after the onset of menopause, there has been growing interest in the effect of estrogen on the heart and its role in the pathophysiology of these diseases. Much less attention has been paid to the impact of testosterone on the heart, even though the levels of testosterone also decline with age and low-testosterone levels are linked to the development of cardiovascular diseases. The knowledge that receptors for all major sex steroid hormones, including testosterone, are present on individual cardiomyocytes suggests that these hormones may influence the heart at the cellular level. Indeed, it is well established that there are male-female differences in intracellular Ca2+ release and contraction in isolated ventricular myocytes. Growing evidence suggests that these differences arise from effects of sex steroid hormones on processes involved in intracellular Ca2+ homeostasis. This review considers how myocardial contractile function is modified by testosterone, with a focus on the impact of testosterone on processes that regulate Ca2+ handling at the level of the ventricular myocyte. The idea that testosterone regulates Ca2+ handling in the heart is important, as Ca2+ dysregulation plays a key role in the pathogenesis of a variety of different cardiovascular diseases. A better understanding of sex hormone regulation of myocardial Ca2+ homeostasis may reveal new targets for the treatment of cardiovascular diseases in all older adults.
Keywords
Aging
Excitation-contraction coupling
Gonadectomy
Orchiectomy
Conclusions
The evidence reviewed here suggests that chronic testosterone withdrawal influences cardiac Ca
2+
-handling mechanisms in ventricular myocytes, as illustrated in Figure
2
. APD is prolonged in the absence of testosterone, an effect mediated by a decrease in magnitude of the repolarizing K
+
current, I
Kur
, at least in rodent models. This reduction in I
Kur
is secondary to a decrease in the expression of Kv1.5. Ca
2+
transients also are smaller and slower in ventricular myocytes from GDX animals when compared to sham-operated controls, especially when cells are paced at physiological rates. The decrease in SR Ca
2+
release arises as a consequence of changes in several components of the excitation-contraction coupling pathway. First, GDX reduces the density of L-type Ca
2+
channels, so Ca
2+
influx is reduced and there is less Ca
2+
available to trigger SR Ca
2+
release. Second, the amount of SR Ca
2+
available for release is reduced by GDX, and the magnitude of Ca
2+
sparks may decline. The decay of the Ca
2+
transient is slowed as a consequence of a decrease in the rate of SR Ca
2+
uptake along with prolongation of the APD. The decline in SR Ca
2+
uptake arises through a reduction in phosphorylation of PLB by CaMKII and possibly also by PKA. Contractions are attenuated in GDX myocytes due to a decrease in the magnitude of the Ca
2+
transient along with a reduction in the maximal myofilament responsiveness to Ca
2+
. Relaxation is slowed due to slower Ca
2+
transient decay along with a shift from the fast α-MHC isoform to the slower β-MHC isoform. These findings demonstrate that GDX influences critical mechanisms involved in Ca
2+
homeostasis and suggest that testosterone modulates myocardial function, at least in part, by effects on individual ventricular myocytes in rodent models. Additional experiments that explore the impact of testosterone on these mechanisms in cardiomyocytes from larger mammals including humans are needed and the key signaling pathways involved should be identified.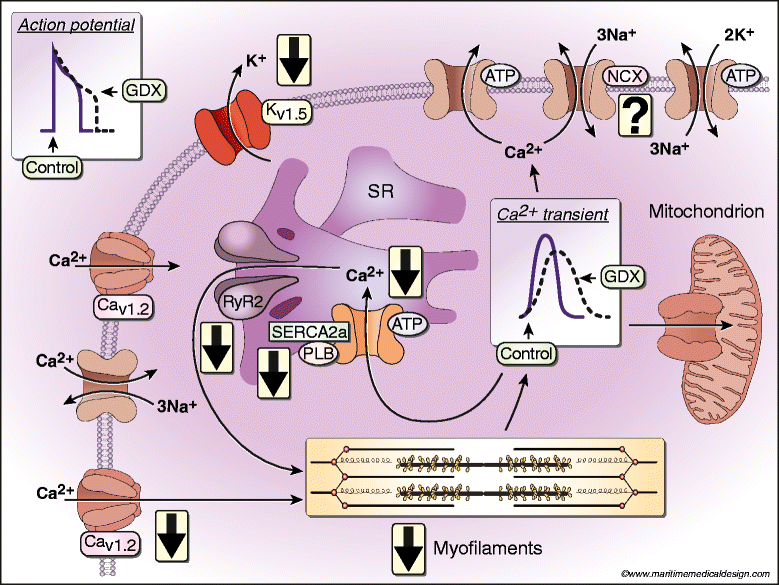 The idea that testosterone regulates the cardiac action potential and Ca2+ homeostasis at the level of the individual heart cell has a number of important clinical implications. For example, men have faster rates of repolarization than women [114], and castrated men have prolonged repolarization while the reverse is seen in women with abnormally high levels of testosterone [115]. This is consistent with evidence that GDX increases APD in individual myocytes in animal models. This may be clinically important as prolongation of the AP can increase the probability of early after depolarizations, which can trigger arrhythmias such as torsades des pointes [116,117]. Furthermore, it is well known that levels of testosterone decline with age, at the same time as the incidence of cardiovascular disease rises. Modifications in myocardial Ca2+ handling and contraction linked to falling testosterone levels in older adults are likely to interact with diseases in the aging heart. For example, the observation that contractions and Ca2+ transients decline in low-testosterone states may promote heart failure with reduced ejection fraction [118]. Intracellular Ca2+ dysregulation also is implicated in the pathogenesis of diseases such as myocardial ischemia and arrhythmias [119], where a decrease in testosterone may influence disease expression. Improved understanding of the cellular mechanisms involved in the effects of testosterone on the heart may reveal mechanisms involved in the increase in susceptibility to cardiovascular diseases in aging and may ultimately help identify new targets for intervention in the treatment of these diseases in both men and women.
Abbreviations
AP:

Action potential
APD50 :

AP duration at 50% repolarization
CaMKII:

Ca2+ calmodulin-dependent kinase II
CYP:

Cytochrome P450
DHP:

1,4-dihydropyridine
DHEA:

Dehydroepiandrosterone
DHT:

Dihydrotestosterone
GDX:

Gonadectomy
GnRH:

Gonadotropin-releasing hormone
HSD3B:

3β-hydroxysteroid dehydrogenase
HSD17B3:

17β-hydroxysteroid dehydrogenase 3
IK1 :

Inward rectifier K+ current
LVDP:

Left ventricular developed pressure
LVEDP:

Left ventricular end-diastolic pressure
ICa-L :

L-type Ca2+ current
LH:

Luteinizing hormone
MHC:

Myosin heavy chain
PLB:

Phospholamban
PKA:

Protein kinase A
+dP/dT:

Rate of left ventricular pressure rise
−dP/dT:

Rate of left ventricular pressure decay
RMP:

Resting membrane potential
RyR:

Ryanodine receptor
SERCA:

Sarco/endoplasmic reticulum Ca2+-ATPase
SR:

Sarcoplasmic reticulum
IKs :

Slow delayed rectifier K+ current
NCX:

Na+/Ca2+ exchanger
ISS :

Steady state K+ current
StAR:

Steroidogenic acute regulatory
ITO :

Transient outward current
IKur :

Ultra-rapid delayed rectifier K+ current
Declarations
Acknowledgements
The authors express their appreciation to Peter Nicholl for technical assistance and artwork, as well as to Monique Guilderson of Maritime Medical Design for designing Figure 2. This study was supported by a grant from the Canadian Institutes for Health Research (MOP 97973).
Authors' Affiliations
(1)
Department of Pharmacology, Dalhousie University, Halifax, Canada
(2)
Medicine (Geriatric Medicine), Dalhousie University, Halifax, Canada
Copyright
© Ayaz and Howlett; licensee BioMed Central. 2015
This is an Open Access article distributed under the terms of the Creative Commons Attribution License (http://creativecommons.org/licenses/by/2.0), which permits unrestricted use, distribution, and reproduction in any medium, provided the original work is properly credited. The Creative Commons Public Domain Dedication waiver (http://creativecommons.org/publicdomain/zero/1.0/) applies to the data made available in this article, unless otherwise stated.