Sex and gonadal hormones in mouse models of Alzheimer's disease: what is relevant to the human condition?
Biology of Sex Differences
2012
3:24
Received: 9 August 2012
Accepted: 27 September 2012
Published: 5 November 2012
Abstract
Biologic sex and gonadal hormones matter in human aging and diseases of aging such as Alzheimer's – and the importance of studying their influences relates directly to human health. The goal of this article is to review the literature to date on sex and hormones in mouse models of Alzheimer's disease (AD) with an exclusive focus on interpreting the relevance of findings to the human condition. To this end, we highlight advances in AD and in sex and hormone biology, discuss what these advances mean for merging the two fields, review the current mouse model literature, raise major unresolved questions, and offer a research framework that incorporates human reproductive aging for future studies aimed at translational discoveries in this important area. Unraveling human relevant pathways in sex and hormone-based biology may ultimately pave the way to novel and urgently needed treatments for AD and other neurodegenerative diseases.
Keywords
SexGenderBrainAlzheimer's diseaseAβTauNeurodegenerationSex chromosomesHormonesEstrogenProgesteroneTestosteroneAndrogensCognitionBehaviorPathologyTransgenicMouseHumanAgingReproductive agingMenopauseAndropause
Introduction
Biologic sex and gonadal hormones exert profound effects on brain function – and we are only beginning to appreciate the complexities of their actions in Alzheimer's disease (AD) from studies of humans and mouse models. In 2010, the Institute of Medicine advocated for expansion of neuroscience research to understand sex differences in the susceptibility and progression of key neurodegenerative conditions such as AD [1]. Indeed, the importance of delineating sex- and hormone-based actions in AD cannot be underestimated for many reasons. First, AD is a tragic disease and the most common neurodegenerative condition, characterized by an insidious and progressive loss of memory and other cognitive functions. Second, true sex-based differences in AD exist. Thus, a more clear understanding of the exact nature of the sexual dimorphisms can shed light on what protects one sex or makes the other more vulnerable. Third, AD develops in an aging brain and a fundamental aspect of human aging is gonadal steroid depletion. Whether and how depletion of certain androgens in men and estrogens and progestins in women can affect brain health and vulnerability to AD emerge as highly relevant, and still unanswered, clinical questions. Finally, sex- and hormone-based actions in human AD lay the groundwork for the intelligent design, execution, and interpretation of studies in animal models of aging and AD. Ultimately, animal models of aging and disease enable rigorous dissection and mechanistic delineation that may pave the way to novel and urgently needed treatments to defeat AD.
In this Review, we highlight advances in AD, describe and interpret sex- and hormone-based studies of AD, and discuss the importance of simulating human reproductive aging when modeling diseases of aging. With the human condition in mind, we then review mouse models of AD, analyze reports of sex differences and hormone effects in male and female mice that model AD, raise major unresolved questions, and offer a research framework that incorporates human reproductive aging for future studies aimed at translational discoveries in the important area of sex and hormone biology.
Alzheimer's disease
AD
Alzheimer's disease, the most common neurodegenerative condition, is reaching epidemic proportions. In the absence of effective interventions, over 50 million people worldwide will suffer from this devastating dementia by the year 2050 [2]. The symptoms of AD begin insidiously with memory impairment and then gradually progress to erode multiple cognitive and behavioral functions. The immeasurable burdens of the disease, combined with a history of failed clinical trials (reviewed in [3, 4]) warrant urgent action toward the development of novel therapeutic targets based on a deeper understanding of AD.
Cognitive decline in AD
Progress in multiple fields of human and mouse model research has advanced our knowledge of what leads to cognitive decline in AD (for full review [5]). We now know that synaptic loss [6–8] and network dysfunction [9, 10] correlate more closely with cognitive deficits in AD than neuronal loss and degeneration. Furthermore, we have a growing appreciation based on imaging findings [11–13] and pathology studies [14–17] that the burden, distribution, or presence of amyloid plaques, pathologic hallmarks of AD, do not correlate well with cognitive dysfunction. These human observations, combined with evidence from transgenic mouse models of AD, also support the concept that plaques and neurofibrillary tangles, though potentially toxic in their own right [18–20], may not be the primary or driving cause of cognitive dysfunction. Highlights from this large body of literature include: cognitive deficits often develop prior to the deposition of amyloid plaques [21–23], neurofibrillary tangles can exist without neuronal impairment [14, 16, 24–27], and tau alone can exert toxicity independently of neurofibrillary tangles (reviewed in [28]). Thus, a growing body of literature suggests that synaptic loss and dysfunction and network disruptions, rather than conventional pathological hallmarks, are main players in the development of cognitive decline in AD.
Multifactorial etiologies of AD
AD is a complex disease caused by the interaction of many factors. Aging, itself, is the primary risk factor for the development of AD and aging–related problems such as diabetes, hypertension, and hyperlipidemia may further promote AD risk [29]. Genetic contributions to AD include mutations or alleles that increase risk such as ApoE4 [30–33] and GWAS-identified genes [30, 34] or decrease risk such as the A673T coding variant in APP [35]. It is worth noting that, to date, all familial AD cases have been caused by either mutations, duplications, or overexpression, of the human amyloid precursor protein (hAPP) or by mutations in presenelin 1 (PS1) or presenelin 2 (PS2), which alter the processing of hAPP (reviewed in [36]).
The human genetics of AD, combined with several lines of evidence in human and mouse studies demonstrate a pathogenic role for Aβ, and particularly for soluble, oligomeric assemblies of Aβ in synaptic and network dysfunction [10]. Aβ can alter and depress synaptic function through mechanisms that involve NMDAR trafficking [37], tau mislocalization into dendritic spines [38, 39], and a host of other mechanisms (reviewed in [10, 40]) that may ultimately lead to network destabilization and cognitive dysfunction (reviewed in [9, 10, 40]).
AD: sexa and epidemiology
Epidemiologyb
Alzheimer's disease and mild cognitive impairment (MCI), a clinical state preceeding AD, affect men and women in different ways. A thorough understanding of the sex-based differences in prevalence, incidence, and disease course can provide critical insight into potential targets for prevention. Of note, our review focuses on large-scale epidemiologic studies, which do not often specify effects of sex-influenced risk factors such as ApoE4, an important modifier of AD [5].
Here, we review epidemiologic data on AD with an emphasis on an important yet underappreciated sexual dimorphism: women bear a greater burden of AD due to increased prevalence and possibly incidence, but men suffer an aggressive course of the disease (Figure 
1
) [
41
–
45
]. In fact, one of the strongest predictors for an aggressive disease course and progression to death following a diagnosis of AD is male sex [
44
].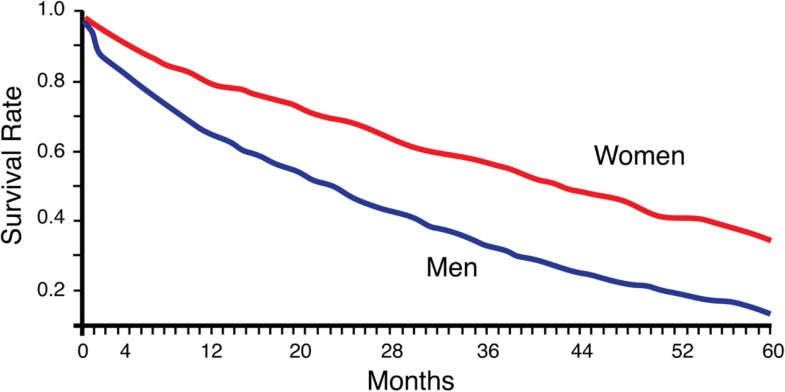 Prevalence
The prevalence of AD, or the total number of cases in a population at a given time, is higher in women compared to men in multiple populations [46]. This is due, in large part, to female longevity – that is, women are more likely to live to ages when AD is most prevalent. In contrast to AD, the prevalence of mild cognitive impairment (MCI), a cognitive state that precedes dementia, is higher in men in many populations [47–49], although not all studies are in agreement [50, 51]. Together, these data suggest that men may be more vulnerable to the onset of the disease.
Incidence
The incidence of AD, a measure of the risk of developing disease over time, is on the whole similar between men and women. Many epidemiologic studies show increased risk for the development of AD in women compared to men in specific populations, and many do not. A meta-analysis of studies worldwide shows similar risks between men and women that increase dramatically with age, and may increase disproportionately in women after the age of 80 yrs [52]. In parallel with increased prevalence of MCI in men, the Mayo Clinic Study of Aging also shows increased risk of MCI (or incidence rates) in men [53]. It will be important to see if other studies show the same.
Disease Course
Sexual dimorphism in the progression of AD is a major and meaningful epidemiologic measure that has received very little attention compared to incidence and prevalence. Men are more vulnerable to an aggressive disease course compared to women. This underappreciated sex difference is supported by several studies. First, men progress to death faster than women in both early- [41–43] and late-onset [44, 45] AD (Figure  1). Since the sex difference exists in the presence and absence of other age–related comorbidities like cancer and heart failure, it suggests increased vulnerability to the pathophysiology of AD in men compared to women. In addition, the observed progression to death closely correlates with the rate of cognitive decline [54]. In further support of a more aggressive course of AD in men, more studies are finding increased MCI in men [47–49, 53, 55], suggesting increased vulnerability to the development and manifestation of cognitive deficits.
AD: Disease course and mouse models
Disease course may be the human epidemiologic factor most relevant to our study of AD in animal models. Since most mouse models of AD involve the transgenic expression of mutated APP with or without mutated tau, outcome measures are focused squarely on the manifestation or disease course rather than the risk or prevalence of disease. Specifically, mouse models enable study of how a manipulation changes the manifestation or severity of AD–related disease measures such as pathology, biochemistry, cognition/behavior, synaptic/network plasticity, or survival.
Human reproductive aging, hormone replacement and AD
Strategies for studying hormone and sex effects in mouse models of AD
Addressing human-relevant questions
Gonadectomy: considerations, caveats, and alternatives
All three areas of research outlined above incorporate the strategy of depleting gonadal hormones though gonadectomy to mimic an aspect of human reproductive aging. This manipulation successfully depletes levels of gonadal hormones, but a few points regarding its limitations and optimal applications deserve consideration. First, gonadectomy decreases hormone levels in a subacute, rather than a slow and progressive manner, as occurs in human reproductive aging. However, whether the rate of hormone decline influences AD-related outcomes is unknown. Second, gonadectomy performed during middle-age (10–15 months in mice) may more closely model reproductive aging, since central nervous system changes that underlie reproductive aging have already occurred; but restricting studies to aging mice is not always practical or economically feasible. Finally, gonadal hormone depletion through natural or surgical means in humans [56, 93–96] or gonadectomy in mice [97, 98] results in compensatory neuroendocrine responses such as increased luteinizing hormone (LH) and follicle stimulating hormone (FSH). Therefore, potential effects of LH and FSH cannot be ruled out when interpreting effects of gonadal hormone depletion. Nonetheless, since these compensatory changes occur in both simulated and true reproductive aging, the manipulation of gonadectomy in mouse models remains relevant to the human condition.
Alternatives to gonadectomy in female mice include genetic and chemical models of reproductive aging. The follitropin receptor knockout (FORKO) mouse is a genetic model that leads to chronic estrogen deficiency early in development [99, 100]. An advantage of genetic models such as FORKO is the ability to recapitulate specific physiological mechanisms involved in human reproductive aging; however, limitations such as potential effects of the mutation on brain development and function could introduce confounds or constrain study interpretations. A chemical model of reproductive aging is treatment with 4-vinylcyclohexene diepoxide (VCD), an industrial chemical that induces follicle depletion and ovarian atrophy [90]. Benefits of VCD treatment include a more physiological, gradual decrease in gonadal steroid levels and the continued presence of the ovarian tissue [90]. Limitations of VCD are the absence of a comparable model in males (thus prohibiting studies on sex differences) and potential toxic effects on brain function that may be independent of gonadal steroid depletion.
Given current limitations of genetic and toxin models of reproductive aging in studying sex differences in mouse models of AD, we advocate gonadectomy as a relevant and reliable manipulation.
Gonadal hormone depletion: dissecting a sex difference
If the comparison between gonadectomized males and females reveals a sex difference, further mechanistic dissection can be achieved by determining whether sex chromosomes or organizational effects of hormones (long-lasting effects of hormones that persist in their absence) explain the difference (Figure  3). One strategy to delineate these possibilities is through a genetic approach using the "four core genotypes" (FCG) model. FCG mice produce XX mice with ovaries, XX mice with testes, XY mice with ovaries, and XY mice with testes (reviewed in [91, 92]). These mice can be crossed with transgenic mouse models of disease, including AD models. Gonadectomy of all male and female offspring in adulthood enables a complex but precise comparison of whether the observed sex difference is explained by sex chromosomes or organizational effects of gonadal hormones (as reviewed in [91]).
Mouse models of AD
Introduction. Using animal models
The necessity of dissecting molecular mechanisms and identifying potential therapies to improve the human condition requires using animal models of disease. A model is only useful, however, if the discoveries generated truly inform us about human disease and potential treatments. Thus, attention to aspects of the AD mouse model that recapitulate clinical manifestations of human AD, such as cognition and its underlying substrates, is essential.
AD mouse models
While AD is a strictly human disease [101], the generation of genetically modified mice expressing mutations in genes that cause AD has enabled progress in understanding its pathogenesis. Genetic AD results from mutations in genes that regulate the production of Aβ: APP, presenilin 1 (PS1), and presenilin 2 (PS2) (reviewed in [5, 101–103]). Most AD mouse models overexpress a mutated form of the human APP gene, a combination of mutated APP and PS1, or a combination of APP, PS1 and P301L (a tau mutation causing frontotemporal dementia) (reviewed in [101, 102]). Precise contributors to neural dysfunction, however, are not always clear in the models. For example, in transgenic hAPP mouse models, relative pathogenic contributions of different hAPP processing products are unknown. In addition, proteins such as endogenous APP have normal functions in synaptic physiology and neuronal migration (reviewed in [104, 105]) that may be disrupted, further contributing to neural dysfunction.
The development of new mouse models of AD offers the opportunity to optimize paradigms and tackle unanswered questions. For example, models that express hAPP via targeted insertion and from the gene's own promoter might produce more physiological results. Yet, such "knock-in" models of AD have shown very mild, if any, tractable AD-like disease progression or dysfunction [106–108] to date. Other approaches in current development include modeling sporadic AD, incorporating multifactorial etiologies of AD into models, and integrating other diseases of aging into AD models.
Despite the fact that current mouse models of AD are imperfect representations of the human condition, key features of AD are indeed preserved [101, 102] and thus enable meaningful studies using these models. Most notably, transgenic mice show synaptic dysfunction/loss and network disruption, which correlate more closely with cognitive decline, the primary clinical manifestation of AD, compared to other disease measures [6, 9].
Relevant substrates of cognitive decline
The efficacies of therapies, and their relevance to patients and families, depend on whether they can prevent or reverse cognitive decline, the primary clinical manifestation of AD. Thus, its human relevance, combined with the incredible homology between rodent and human memory systems [109], make cognition and its substrates high-yield outcome measures in mouse models of AD. Since the main drivers for cognitive decline are synaptic loss/dysfunction and network disruptions, as discussed above (reviewed in [6, 10, 40]), these measures, along with their causative agents, are the most directly human-relevant assessments [5, 6].
Review of studies on sex differences in mouse models of AD
Review of studies in mouse models of AD: females
Review of studies in mouse models of AD: males
Overview
Whether androgens, or other forms of hormone replacement in men with AD are beneficial has yet to be determined in rigorous, double-blinded, prospective, and placebo-controlled clinical trials – but clinical observations [85, 173–176] and data from animal studies suggest they may be. Studies of hormone depletion and treatment in male mice that model AD collectively show a beneficial action of androgens on cognition, pathology, and biochemical measures.
Cognition and behavior
Gonadal steroid depletion, via gonadectomy of male mice that model AD, worsened cognitive impairment [
177
]. The impairment was reversed by subcutaneous treatment with dihyrdotestosterone (DHT) [
177
], a metabolite of testosterone. Increasing serum and brain levels of testosterone via genetic knockdown of aromatase [
178
] also improves cognition in male AD mice. The possibility that androgens may exert long lasting "organizational" effects is supported by a finding that blocking androgen receptors during a critical period of brain differentiation in male 3xTg mice worsens cognition in adulthood [
116
]. Collectively, these studies (Table
3
) show a reproducible, beneficial effect of androgen-related function on cognitive impairments in male mice that model AD.
Table 3
Male studies of cognition & behavior in mouse models of AD
| Hormone/ Regimen | Manipulation | Timing, Route, Dose | Comparison A | Cognition & Behavioral Measure and Ref. | AD Tg Model |
| --- | --- | --- | --- | --- | --- |
| Hormone Depletion | Gnx 3 mos | N/A | Intact vs Gnx | Gnx ↓ SAB (Y-maze) [177] | 3xTg-AD |
| Flutamide B | Postnatal d1-20 | IP injection of flutamide (50 mg/kg/d) | Intact: Veh vs Flutamide | Flutamide ↓ SAB (Y-maze) [116] | 3xTg-AD |
| Genetic Knockdown of Aromatase C | None | N/A | Intact: Aromatase+/− vs Aromatase+/+ | Aromatase+/− ↑ spatial memory (Hole-board) [178] | APP23 |
| DHT | Gnx 3 mos | Immediate s.c. DHT (10 mg) 90+d | Gnx: Veh vs DHT | DHT ↑ SAB (Y-maze) [177] | 3xTg-AD |
Aβ, tau, and histopathology
In parallel with protecting against cognitive deficits, androgens also decreased levels of pathogenic proteins and pathology related to AD. While gonadectomy increased Aβ levels and plaque deposition in male AD-model mice [177, 179], elevating androgens through hormone replacement [177, 179] or genetic knockdown of aromatase [178] decreased these measures. In addition, transient androgen receptor blockade in the neonate [116] curiously increased Aβ accumulation in adulthood, suggesting that androgens can exert organizational effects on propensity toward Aβ pathology. Gonadectomy did not change levels of tau in male 3xTg mice [179], but testosterone decreased tau levels compared to both gonadectomized and intact mice [179].
Molecular and biochemistry
Consistent with androgen-mediated decreases in Aβ levels, elevating brain and serum testosterone via aromatase knockdown, modified important enzymes (BACE, neprilysin (NEP), and IDE) leading to decreased Aβ production [178]. These data offer an explanation for androgen's protective actions in lowering levels of Aβ and, ultimately, improving cognition. Although more studies have addressed molecular and biochemical measures in in vitro, cell culture systems, they are not reviewed here.
Survival
No studies to date have examined if androgens, or the lack of, alter survival in male mice that model AD.
Conclusions and future directions
Though the number of studies is limited, they collectively show a deleterious effect of gonadectomy and a protective action of androgens in male mice that model AD. The protective effect existed in more than one AD model, was achieved using genetic or pharmacologic strategies, and modified a directly relevant measure to clinical AD – cognition. Several important questions arise from these studies. How do androgens modulate Aβ-targeting enzymes and can they protect against cognitive deficits in an Aβ-independent manner? Do androgens signal through receptor-dependent or alternate pathways to achieve protection? Can androgen signaling improve AD-related cognitive deficits in both males and females? If so, can we modify androgen signaling to improve cognition without eliciting masculinizing effects? These and other lines of androgen-focused investigation may hold promise for treating the human condition.
Where do we go from here?
Research strategies
Given our evolving tools and knowledge base, we put forth the following suggestions for future research in sex- and hormone-based studies in AD mouse models. First, since gonadal steroid depletion is an inextricable aspect of human, but not mouse, aging, it should be vigorously incorporated into our study of AD and other disease models of aging. Gonadal steroid depletion through gonadectomy is a human-relevant manipulation that models the hormone environment in which AD develops and enables clearer approaches to comparing males and females, understanding reproductive aging, and testing effects of hormone replacement. Second, when using mouse models of AD, measures that relate closely to clinical AD, and thus directly reflect human-relevant outcomes, should be included in studies. This means expanding the focus of mouse model research to include cognition, behavior, and measures closely correlated with these, such as synaptic and network function. Third, because clear sex differences exist in human AD epidemiology, specifically in progression to death, it is important to look at survival and related measures in our mouse models. Finally, in light of past, present, and future clinical trials, we should continue lines of research studying how the loss and replacement of hormones affect each sex in models of AD.
Outlook
As we learn more about AD itself, how it manifests differently in men compared to women, and how hormones modify its risk, we must simultaneously recast our questions to reflect high-yield and human-relevant research strategies – with the goal of achieving biomedical discoveries that improve the human condition. This is not an easy task, as it requires merging the complex, emerging field of sex and hormone biology with the study of a complex, devastating disease of aging, AD. We believe this task is not insurmountable, and if taken on mindfully, may reveal novel targets for defeating the disease.
Endnotes
a Sex is biological classification of living beings as male or female and is used in this review to describe both humans and mice. Gender, a term that is only appropriate when applied to humans, is a cultural expression of sex, shaped by environment and experience.
b This review of sex differences in the epidemiology of AD includes large populations in which the effect of ApoE4, a genetic risk factor that increases AD risk in women, is not specifically examined.
c Estradiol is the most biologically active form of estrogen that circulates in high levels in the body prior to the menopause in women. Most studies in animal models use estradiol for hormone treatment. In contrast, clinical studies in humans have used hormone replacement paradigms that include other estrogenic steroids.
d During the publication process of our review, an observational study showing an association between hormone therapy use started within 5 years of menopause and decreased AD risk was released (H. Shao et al. Hormone therapy and Alzheimer disease dementia: New findings from the Cache County Study. Neurology 79, 1846). Though the findings are highly intriguing in light of the critical window hypothesis, caution must be exercised when interpreting observational studies due to their inherent limitations. Ultimately this study approach can only show associations and not causal links. Whether hormone therapy reduces the risk of AD when given during a critical window will need to be determined through the gold-standard of clinical research – randomized, double-blind, placebo-controlled trials.
Authors' information
Dena B Dubal, MD, PhD is an Assistant Professor of Neurology and Director of the Laboratory for Neuroscience and Aging Research. She holds the David Coulter Endowed Chair in Aging and Neurodegeneration at UCSF. She is a physician-scientist with a clinical and research focus on intersections between aging and neurodegeneration.
Lauren Broestl is a Research Associate in the department of Neurology at UCSF.
Kurtresha Worden is a Research Associate in the department of Neurology at UCSF.
Declarations
Acknowledgements
This work was supported by National Institutes of Health Grant AG034531 (D.B.D.) and the Coulter-Weeks Foundation (D.B.D.). We thank P. Wise and J. Palop for discussions and L. Bonham, F. Lee, and A. Boltunova for discussions and administrative assistance.
Authors' Affiliations
(1)
Laboratory of Neuroscience and Aging Research, Department of Neurology, Sandler Neurosciences Center, University of California, San Francisco, USA
Copyright
© Dubal et al.; licensee BioMed Central Ltd. 2012
This article is published under license to BioMed Central Ltd. This is an Open Access article distributed under the terms of the Creative Commons Attribution License ( http://creativecommons.org/licenses/by/2.0), which permits unrestricted use, distribution, and reproduction in any medium, provided the original work is properly cited.