Identification of novel candidate genes for 46,XY disorders of sex development (DSD) using a C57BL/6J-Y POS mouse model
Biology of Sex Differences
2018
9:8
Received: 31 July 2017
Accepted: 19 January 2018
Published: 30 January 2018
Abstract
Background
Disorders of sex development (DSD) have an estimated frequency of 0.5% of live births encompassing a variety of urogenital anomalies ranging from mild hypospadias to a discrepancy between sex chromosomes and external genitalia. In order to identify the underlying genetic etiology, we had performed exome sequencing in a subset of DSD cases with 46,XY karyotype and were able to identify the causative genetic variant in 35% of cases. While the genetic etiology was not ascertained in more than half of the cases, a large number of variants of unknown clinical significance (VUS) were identified in those exomes.
Methods
To investigate the relevance of these VUS in regards to the patient's phenotype, we utilized a mouse model in which the presence of a Y chromosome from the poschiavinus strain (Y POS ) on a C57BL/6J (B6) background results in XY undervirilization and sex reversal, a phenotype characteristic to a large subset of human 46,XY DSD cases. We assessed gene expression differences between B6-Y B6 and undervirilized B6-Y POS gonads at E11.5 and identified 515 differentially expressed genes (308 underexpressed and 207 overexpressed in B6-Y POS males).
Results
We identified 15 novel candidate genes potentially involved in 46,XY DSD pathogenesis by filtering the list of human VUS-carrying genes provided by exome sequencing with the list of differentially expressed genes from B6-Y POS mouse model. Additionally, we identified that 7 of the 15 candidate genes were significantly underexpressed in the XY gonads of mice with suppressed Sox9 expression in Sertoli cells suggesting that some of the candidate genes may be downstream of a well-known sex determining gene, Sox9.
Conclusion
The use of a DSD-specific animal model improves variant interpretation by correlating human sequence variants with transcriptome variation.
Keywords
Disorders of sex development46,XY DSDUndervirilizationC57BL/6J mouseRNA-SeqExomeGonadal dysgenesis
Background
Human sex development is dictated by the inheritance of either an X or Y chromosome from the father to offspring. The male sex determination step starts with the expression of a Y-chromosome-encoded transcription factor SRY (sex-determining region Y) in the bipotential gonad, initiating a cascade of molecular and cellular events leading to testicular organogenesis [1]. In the absence of the Y chromosome, female-specific pathways are initiated for proper ovarian development [2]. Sex differentiation then occurs, mostly under the influence of testicular (e.g., testosterone, AMH) or ovarian (e.g., estradiol) hormones or transcription factors (e.g., COUP-TFII) that further differentiate the body into typical male or female structures, including both internal and external genitalia [3, 4]. Anomalies in hormonal exposure and/or gene mutations disrupting sex development pathways lead to disorders of sex development (DSD) [5–7], defined as "congenital conditions in which development of chromosomal, gonadal, or anatomic sex is atypical" [8]. The umbrella term DSD encompasses conditions ranging from mild hypospadias (abnormal location of the meatus) to discrepancy between sex chromosomes and external genital phenotype (formerly known as sex reversal, either complete or with ambiguous genitalia). DSDs are estimated to affect up to 0.5% of the population [9]. The birth of a child with a DSD may be highly stressful for families, bringing uncertainty in regard to the child's future psychosexual development and clinical management [8, 10, 11].
At present, a specific molecular diagnosis is identified at variable rates in different DSD conditions, and gonadal dysgenesis cases are arguably the most difficult to diagnose. The majority (80–90%) of isolated 46,XX testicular DSD are explained by SRY translocations, but only a minority (~ 10%) of ovotesticular DSD in 46,XX individuals are [12]. Copy number variants of the SOX9 and SOX3 gene regions are a well-established etiology but only explain a few cases [12]. More recently, a single nucleotide variant in NR5A1 (nuclear receptor subfamily 5 group A member 1) gene resulting in p.Arg92Trp amino acid change has been associated with 46,XX testicular (and ovotesticular) DSD [13, 14]. The majority of cases of ovarian dysgenesis occur in individuals with an abnormal sex chromosome complement, most commonly 45,X (Turner syndrome), but the advent of next-generation sequencing has recently identified many autosomal genes implicated in determination and maintenance of the ovarian fate. They affect various processes, in particular DNA repair, replication, and stability, but explain a minority of cases [15, 16]. Among 46,XY DSD cases with gonadal dysgenesis, about 15% each are due to SRY, NR5A1, and MAP3K1 (mitogen-activated protein kinase kinase kinase 1), and rare cases have been attributed to mutations in other genes such as SOX9 (SRY-box9), NR0B1 (nuclear receptor subfamily 0 group B member 1), or FGFR2 (fibroblast growth factor receptor 2) [17, 18]. Nevertheless, collectively, the genetic etiology is still not identified in greater than 50% of DSD patients, suggesting the existence of a number of unknown sex-determining genes. We endeavored to identify novel candidate genes for 46,XY gonadal dysgenesis.
Next-generation sequencing has become instrumental in DSD diagnosis, including clinical exome sequencing and gene panels [17, 19–21] with high diagnostic rates reported for known DSD genes. In a cohort of 46,XY DSD patients, we established a diagnosis in approximately 1/3 of cases [22], similar to rates for other rare disorders [23, 24]. Another 15% of the exomes in the cohort contained variants of unknown significance (VUS) in known DSD genes that could not be validated as pathogenic but were reported to the referring clinicians to orient further endocrine or imaging testing toward a definitive diagnosis (the variants were termed as "actionable VUS"). Half of the cases from our cohort remained undiagnosed but contained hundreds of VUS that provide an opportunity for identification of novel etiologies for DSD. Here, we utilize an animal model of DSD with gonadal dysgenesis and undervirilization [25, 26] to identify a group of genes that were misexpressed during disrupted testis development. This list was cross-referenced with the list of VUS from 46,XY DSD patients to predict which VUS might be causative in cases where exome sequencing did not result in a definitive diagnosis. We show that the identified 15 novel candidate genes contain a VUS identified in 46,XY DSD cases and are expressed at the time of sex development in a sex-differential manner. In addition, we show that the expression of many of these genes in the developing male gonads is dependent on the known sex-determining gene Sox9.
Discussion
The use of the undervirilized B6-Y POS mice as a model for 46,XY DSD in humans provides valuable screening information toward the identification of novel genes involved in male sex development, mutations in which could lead to anomalies in gonadal development in 46,XY patients with DSD. All of the identified candidate genes are expressed in the developing mouse gonad at the relevant time for sex determination and, as we have shown (Fig. 3a, b), the expression of many of these genes may be Sox9-dependent. However, when studying complex disorders such as DSD, it is important to note that even though the mouse models used here are extremely beneficial for identification of the underlying genetic cause in humans, they still do not provide the full spectrum of gene expression/interactions that occur during human sex development.
Mutations in the novel candidate genes identified via the Y POS mouse model are likely to be causative. For example, one of the candidate genes Adamts16 (A disintegrin and metalloproteinase with thrombospondin type 1 motif, 16) has been shown to be co-expressed with the known DSD gene Wt1 (Wilms tumor 1) in embryonic gonads, adult testes, and spermatids [38]. Moreover, targeted disruption of Adamts16 in rats results in cryptorchidism and sterility [51]. In our 46,XY DSD cohort, we identified three heterozygous variants in this gene (Table 2). Patients RDSD013 and RDSD002, both 46,XY women with complete gonadal dysgenesis, had a missense variant leading to amino acid change at positions p.Val734Ile and p.Arg100Trp respectively. These changes were located in the propeptide or cysteine-rich domain of the ADAMTS16 protein and may prevent expression or proper folding of the protein. The third missense variant (p.Phe469Val) in patient RDSD022 (46,XY, with ambiguous genitalia) was located in the peptidase domain of the protein and predicted damaging by in silico tools suggesting a possible impairment of the enzymatic function of ADAMTS16.
We have also identified two rare variants (p.Ala496Thr; p.Ala1202Gly) in the
FBLN2
(fibulin 2) gene in two cases with different phenotypes: 46,XY female with inguinal testes/enlarged clitoris and 46,XY male with hypospadias. Additional rare
FBLN2
variants were present in six other unrelated cases with previously identified genetic diagnosis (i.e., each with a pathogenic variant identified in a known DSD gene). This suggest that variants in
FBLN2
are overrepresented in DSD population and may act as modifiers of the phenotype. We (Fig.
5
) and others [
52
] show that
Fbln2
is expressed in a sexually dimorphic pattern in the developing gonad. Immunohistochemical staining at E12.5 indicated that WT B6 females have virtually no Fbln2 expression in the developing ovaries (Fig.
5
, left panel), whereas WT B6 males (right panel) have very high expression in the developing testes suggesting an important role of Fbln2 in sexual dimorphism.
FBLN2
has been proposed as a candidate gene for 46,XY DSD in an unpublished meeting abstract (K. MacElreavey, personal communication).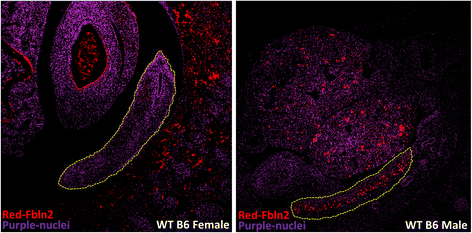 We identified a single variant, predicted to be damaging by in silico tools, in the SPRY4 (sprouty RTK signaling antagonist 4) gene in a 46,XY male patient (CDSD039) with hypogonadism. SPRY4 variants have been found in a cohort of patients presenting with hypogonadotropic hypogonadism with or without anosmia (HH17, OMIM #615266) [53]. These genes are believed to be functioning in an oligogenic model, with variants in several genes possibly needed for phenotypic expression. Variants in SPRY4 have been found in association with variants in FGFR1 (fibroblast growth factor receptor 1) (HH2, OMIM #147950) and DUSP6 (dual specificity phosphatase 6) (HH19, OMIM #615269), the two other FGF signaling pathway components. An FGFR2 missense mutation was reported in a 46,XY female DSD patient, for which a corresponding mouse model showed partial sex reversal with reduced Spry4 (2-fold) and Dusp6 expression (> 2-fold) [54]. We did not identify FGFR1 or DUSP6 variants in the exome of patient CDSD039 (which would have been diagnostic for this patient). However, DUSP6 is present in the differentially expressed gene list (underexpressed in B6-Y POS with a fold change of 1.7) and another gene coding for a dual-specificity phosphatase, DUSP15 (dual specificity phosphatase 15), is in our final candidate gene list, with underexpression in B6-Y POS (fold change > 2) and contains a VUS in one patient.
Conclusions
Exome sequencing provides high-throughput genetic diagnostic capability that has become the core of modern clinical genetics. However, many variants identified by whole exome sequencing are uninterpretable clinically. The C57/BL6J-Y POS model narrows the interpretive gap by correlating human sequence variants with transcriptome variation. This approach allowed the identification of 15 novel candidate genes for human 46,XY DSD.
Declarations
Acknowledgements
We would like to thank all the patients and families who contributed samples to this project and consented to have their data shared. We would also like to thank the clinical and research teams of the DSD-Translational Research Network, founded by Eric Vilain (UCLA) and David E. Sandberg (University of Michigan, Ann Arbor) with the collaborations of DSD patient advocate organization Accord Alliance.
Funding
This work was supported by the Doris Duke Foundation (to E.V.), a National Institutes of Health T032 Training Grant (5T32HD007228) (to H.B.), Eunice Kennedy Shriver National Institute of Child Health and Human Development (NICHD) Grant (RO1HD06138), Disorders of Sex Development-Translational Research Network (to EV), and National Health and Medical Research Council Program Grants 334314 and 546517 (to V.H.) and Fellowships 441102 and 1020034 (to V.H.), and Australian Government Research Training Program Scholarship (to A.S.). This work was also supported by the Victorian Government's Operational Infrastructure Support Program.
Availability of data and materials
Data generated or analyzed during this study are partially included in this published article. The datasets generated and/or analyzed during the current study are available from the corresponding author on a reasonable request.
Authors' contributions
HB designed the study; acquired, analyzed, and interpreted the data; and prepared the manuscript. AS, MZ, MA, ES, AS, MSB, VAA, and RB acquired, analyzed, and interpreted the data. AS, ED, VH, and EV aided in the experimental design, data analysis, and manuscript preparation. SFN, ED, VH, and EV provided senior oversight for the design, analysis, and interpretation. All authors indicated the approval for publication.
Ethics approval and consent to participate
Research involving human subjects, human material, and human data have been performed in accordance with protocols (IRB# 11-001491; IRB# 11-001775) approved by the UCLA Institutional Review Board.
Experimental studies involving animals, animal tissues, and data have been performed in accordance with approved protocol (ARC# 2000-088-51A) by UCLA Chancellor's Animal Research Committee as well as Animal Ethics Committee of Southern Health (Clayton, Australia, ethics number MMCB/2009/30).
Consent for publication
Participants have consented by approved IRB protocol to share their de-identified data.
Competing interests
The authors declare that they have no competing interests.
Publisher's Note
Springer Nature remains neutral with regard to jurisdictional claims in published maps and institutional affiliations.
Open AccessThis article is distributed under the terms of the Creative Commons Attribution 4.0 International License (http://creativecommons.org/licenses/by/4.0/), which permits unrestricted use, distribution, and reproduction in any medium, provided you give appropriate credit to the original author(s) and the source, provide a link to the Creative Commons license, and indicate if changes were made. The Creative Commons Public Domain Dedication waiver (http://creativecommons.org/publicdomain/zero/1.0/) applies to the data made available in this article, unless otherwise stated.
Authors' Affiliations
(1)
Center for Genetic Medicine Research, Children's Research Institute, Children's National Health System, Washington, DC, USA
(2)
Department of Human Genetics, David Geffen School of Medicine, University of California, Los Angeles, USA
(3)
Department of Pediatrics, David Geffen School of Medicine, University of California, Los Angeles, USA
(4)
Department of Brain and Gender, Hudson Institute of Medical Research, Clayton, Australia