Large-scale transcriptome sequencing reveals novel expression patterns for key sex-related genes in a sex-changing fish
Biology of Sex Differences
2015
6:26
Received: 11 September 2015
Accepted: 9 November 2015
Published: 25 November 2015
Abstract
Background
Teleost fishes exhibit remarkably diverse and plastic sexual developmental patterns. One of the most astonishing is the rapid socially controlled female-to-male (protogynous) sex change observed in bluehead wrasses (Thalassoma bifasciatum). Such functional sex change is widespread in marine fishes, including species of commercial importance, yet its underlying molecular basis remains poorly explored.
Methods
RNA sequencing was performed to characterize the transcriptomic profiles and identify genes exhibiting sex-biased expression in the brain (forebrain and midbrain) and gonads of bluehead wrasses. Functional annotation and enrichment analysis were carried out for the sex-biased genes in the gonad to detect global differences in gene products and genetic pathways between males and females.
Results
Here we report the first transcriptomic analysis for a protogynous fish. Expression comparison between males and females reveals a large set of genes with sex-biased expression in the gonad, but relatively few such sex-biased genes in the brain. Functional annotation and enrichment analysis suggested that ovaries are mainly enriched for metabolic processes and testes for signal transduction, particularly receptors of neurotransmitters and steroid hormones. When compared to other species, many genes previously implicated in male sex determination and differentiation pathways showed conservation in their gonadal expression patterns in bluehead wrasses. However, some critical female-pathway genes (e.g., rspo1 and wnt4b) exhibited unanticipated expression patterns. In the brain, gene expression patterns suggest that local neurosteroid production and signaling likely contribute to the sex differences observed.
Conclusions
Expression patterns of key sex-related genes suggest that sex-changing fish predominantly use an evolutionarily conserved genetic toolkit, but that subtle variability in the standard sex-determination regulatory network likely contributes to sexual plasticity in these fish. This study not only provides the first molecular data on a system ideally suited to explore the molecular basis of sexual plasticity and tissue re-engineering, but also sheds some light on the evolution of diverse sex determination and differentiation systems.
Keywords
Sex-biased gene expressionSexual dimorphismBrainGonadTranscriptomeRNA-seqProtogynous sex changeBluehead wrasse
Background
Sexual dimorphism is ubiquitous in nature: males and females differ not only in their gonadal structure and function, but also in many aspects of their morphology, physiology, and behavior [1–3]. While sex-determination mechanisms are relatively conserved in mammals and birds, teleost fishes show remarkably diverse sexual developmental patterns, including both genetic and environmental sex-determination (GSD and ESD) systems [1, 4, 5]. Such diversity probably arises from the extreme sexual plasticity characteristic of teleost fishes. For example, in fishes with GSD systems, sex is determined during early development stages and individuals remain in the same sex for a lifetime (defined as gonochorism) [4]. However, this primary sex differentiation guided by genetic signals can be interrupted or even reversed by temperature or endocrine-disrupting chemicals [6–11]. More extreme cases are found in fishes with ESD systems including sequential hermaphroditism in which some adults in a social group undergo functional sex change in response to environmental stimuli (e.g., temperature or social cues) [12–16]. Revealing the mechanisms underlying such sexual plasticity may help us understand how sex is maintained and gain insights into the origin and evolution of sex-determination systems.
The genetic bases of sexual dimorphism have been intensively studied for decades in mammals and birds, but are less well characterized in teleost fishes [1–4, 17, 18]. So far, genetic studies on sex determination in fishes have examined either sex-specific genetic differences or sex-biased gene expression [19–23]. The search for sex-specific genetic markers has not met with much success because, unlike mammals and birds, fishes have relatively young sex chromosomes that are not usually heteromorphic [24–28] with exceptions including some species of salmonids [29, 30], stickleback fishes [31], glass knife fishes [32], and half-smooth tongue sole, Cynoglossus semilaevis [33]. Even in fishes with heterogenic sex-determination systems, sex differences are usually limited to a few loci or certain linkage groups [34–39]. No conserved sex-specific gene has been found in teleost fishes: six sex-determining genes have been reported to evolve separately in different fish lineages [22, 40]. In contrast, studies examining sex-biased gene expression in fishes have yielded many more genes, including some that play conserved roles in vertebrate sex differentiation. However, for most of these sex-biased genes, their detailed molecular functions in fishes remain to be clarified [23, 41–46]. Studies to date have focused mainly on the expression patterns of a limited number of genes during primary sex differentiation stages in gonochoristic fishes [47–53]. Few studies have yet examined sex-biased gene expression in hermaphroditic fishes, with the exception of genetic studies in protandrous black porgy, Acanthopagrus schlegelii [19, 54], and transcriptomic studies in two other protandrous species: sharpsnout seabream, Diplodus puntazzo, and Asian seabass, Lates calcarifer [20, 21]. However, hermaphroditism is phylogenetically widespread in fishes, with protogyny being the most commonly observed pattern [15, 55, 56], but a large-scale analysis of sex-biased gene expression is currently lacking for protogynous fishes.
The bluehead wrasse, Thalassoma bifasciatum, is a diandric (two male phenotypes) protogynous species belonging to the wrasse family (Labridae) and is abundant on coral reefs throughout the Caribbean [57, 58]. This highly social species exhibits two major color phases: females and smaller sneaker males in initial phase (IP) share the same color pattern, while the large males display a distinct terminal phase (TP) phenotype [57–59]. Natural social groups typically consist of one dominant TP male and numerous females as well as a few IP males. Following the loss of the dominant TP male from a social group, both large females and IP males can transform into TP males through sex or role change, although the latter is rarely reported [55, 59, 60]. In females, functional gonadal sex change takes about a week while behavioral sex change can begin within minutes to hours [60, 61]. Importantly, manipulation of the social environment can induce sex change in females, which makes the bluehead wrasse a useful model for investigating sexual plasticity.
Significant progress has been made in understanding the ecology and the neuroendocrine bases of sex change in this species, but detailed mechanisms still remain elusive, especially at the molecular level [55, 62]. According to the Animal Genome Size Database [63], the haploid DNA contents (C-value) of bluehead wrasse is 0.98 picogram (1 picogram = 978 megabase pair). However, its genome and transcriptome sequences are not available yet. In this study, we took advantage of RNA sequencing technology and captured the transcriptomic profiles in the brain and gonads of TP male, female, and intersex bluehead wrasses. To identify genes exhibiting sex-biased expression in the brain (forebrain and midbrain) and gonads of the bluehead wrasse, we generated a de novo transcriptome assembly for read mapping and compared gene expression patterns at the isoform level between control females and TP males. We also conducted functional annotation and enrichment analysis on the genes showing sex-biased expression in the gonad to detect sex-biased genetic pathways that could contribute to gonadal sex differences in bluehead wrasses.
Methods
Sample collection
Sex change was induced in large females by the removal of dominant TP males from established social groups in the wild [61, 64, 65]. Twenty fishes were captured before or during the daily spawning period around high tide from patch reefs off the coast of Key Largo in late May 2012. All fishes were euthanized with an overdose of MS-222 (Sigma) within 2 min of capture, and the brain and gonads were dissected immediately. These experiments were performed in accordance with guidelines established by the Institutional Animal Care and Use Committee at North Carolina State University (NCSU).
One gonadal lobe and the whole brain were preserved in RNAlater (Life Technologies, Inc.) on ice, followed by storage at −20 °C for less than 1 week and transfer to −80 °C until RNA extraction. The other gonadal lobe was fixed in 4 % paraformaldehyde/1X PBS overnight at 4 °C, followed by storage in 1X PBS before being fixed in paraffin for histological sectioning and HE (hematoxylin and eosin) staining (Histology Laboratory, College of Veterinary Medicine, NCSU) to determine the gonadal status [66]. Before RNA extraction, the hindbrain (corpus cerebelli, pons, and medulla) was removed from each brain. Only the forebrain/midbrain was used for RNA sequencing, because the forebrain and midbrain contain regions belonging to the social behavior network and mesolimbic reward system, two neural circuits that are involved in the regulation of social decision-making [67], and thus may be key integrators and drivers of socially induced sex change.
RNA extraction
The tissues were homogenized using TissueLyser II (QIAGEN®) (Center for Neuroendocrinology, Department of Anatomy, University of Otago). Forebrain/midbrain and gonadal total RNA were extracted with TRI reagent (Invitrogen) using chloroform (forebrain/midbrain) or bromochloropropane (gonads) as the phase separation reagent. Samples were then DNase-treated (TURBO DNA-free Kit, Ambion) and total RNA-cleaned (NucleoSpin RNA XS columns, Macherey-Nagel). RNA integrity was assessed on an Agilent 2100 Bioanalyzer. Sex-changing gonads consistently showed RNA profiles with a strong peak of low molecular weight RNA, which possibly corresponds to massive 5S RNA expression in atretic ovaries and masks the 18S and 28S rRNA peaks used for calculating RNA integrity numbers (RIN). Such patterns were also observed in ovaries and intersex gonads of thicklip gray mullets, Chelon labrosus [68], and ovaries of protandrous sharpsnout seabream, Diplodus puntazzo [20]. Therefore, RIN values could not serve as useful measures of RNA integrity in these sex-changing gonads of bluehead wrasses. For brain RNA, samples with RIN values above 6.0 were used for RNA-seq. Total RNA concentration was measured by Qubit 2.0 Fluorometer (Qubit RNA HS Assay Kit, Life Technologies), and samples were diluted to 10 ng/μL.
RNA sequencing
Total RNA from 12 forebrain/midbrain and 12 gonadal samples (3 control females, 3 TP males, and 6 intersex fish), 500 ng per sample, were sent to the Otago Genomics and Bioinformatics Facility at the University of Otago under contract to New Zealand Genomics Limited for library construction and RNA sequencing. Twenty-four multiplexed libraries were prepared with the Illumina TruSeq Stranded mRNA Sample Prep Kit and 100-bp paired-end reads were generated using 8 flow cell lanes on the HiSeq 2000 platform. The insert size was designed to produce a small overlap between paired reads.
Read pre-processing
Read quality was first assessed with FastQC (v0.10.1) [69]. Quality filtering was performed using Trimmomatic (v0.25) [70]: low quality reads were trimmed if average Phred quality scores were less than 20 within a 3-bp sliding window and discarded if the length was below 40 bp after trimming (Trimmomatic parameters: SLIDINGWINDOW:3:20 MINILEN:40). Read pairs were processed with FLASH (v1.2.4) [71]. Overlapping read pairs were joined and used for assembly along with the non-merged read pairs.
De novo transcriptome assembly
Filtered short reads with high-quality scores were assembled de novo with Trinity [72] (r2014-03-23, default kmer 25, minimum contig length of 200 bp), an assembler developed for efficient and robust de novo reconstruction of transcriptomes from RNA-seq data [20, 73, 74]. Since our libraries were made using the dUTP method [75], we specified the library type by setting the "strand-specific library type (—SS_lib_type)" as "RF." We also used the "—jaccard_clip" option to reduce chimeric fusion of transcripts [76].
Quality checking
Assembled contigs were first searched against CEGMA (Core Eukaryotic Genes Mapping Approach, v2.5) KOGs (the eukaryotic orthologous groups) [77]. We then ran "TransDecoder" (v1.0) [76] to check the chimeric rate in our assembly (if two large open reading frames were found in one contig, it would be reported as chimeric). Full-length transcript analysis was carried out using the Trinity function "analyze_blastPlus_topHit_coverage.pl" with BLAST+ (BLASTN, E-value cut-off 10−50) against 17 bluehead wrasse expressed sequence tags (ESTs) and 19,712 Nile tilapia protein sequences (Ensembl release 75) [76, 78, 79]. Finally, we manually checked the sequences of all the candidate genes based on read mapping and visualization in Integrative Genomics Viewer (IGV, v2.3.40) [80].
Annotation
The assembly was searched against the UniProt (Swiss-Prot and TrEMBL) protein database [81] with BLAST+ (BLASTX, E-value cut-off 10−10, keeping the top hit) [78] for taxonomic distribution and bacterial contamination detection. Information on taxa was obtained using an in-house Perl script, and the numbers of each taxon were manually checked.
We then conducted BLASTX searches of the assembled contigs against the Ensembl (release 75) Nile tilapia (Oreochromis niloticus), zebrafish (Danio rerio), and medaka (Oryzias latipes) protein databases (E-value cut-off 10−10, keeping the top hit) [78, 79].
Contigs with no hit in the protein databases were searched against the Ensembl (release 77) zebrafish non-coding RNA (ncRNA) database (BLASTN, E-value cut-off 10−5, keeping the top hit) and mapped to the tilapia genome downloaded from Ensembl (release 79, BLASTN, E-value cut-off 10−10) [78, 79]. Finally, putative open reading frames (ORFs) were searched in both annotated and unannotated contigs using OrfPredictor (v2.3) [82].
Read mapping and differential expression analysis
The de novo transcriptome assembly served as a reference for read mapping. Raw reads were aligned to the assembly with Bowtie (v0.12.9) [83] and transcript abundance estimation was calculated with RNA-seq by expectation maximization (RSEM, v1.2.12) [84] using the align_and_estimate_abundance.pl script from the Trinity package [76]. RSEM expected counts for each contig (representing the isoform) were used for downstream differential expression analysis in R (v3.1.0) [85] using the DESeq package (v1.20.0) [86].
Comparisons between TP males and females were conducted separately for the brain and gonadal samples (3 samples for 2 conditions each) using the DESeq function nbinomTest [86]. Principal component analysis (PCA) [87] and the heatmap.2 function in the gplots package [88] were used to visualize global similarities and differences among either the brain or gonadal samples. Contigs with very low expression in either gonad or brain (average expected counts of mapped reads fewer than 1 per sample) were excluded prior to differential expression analysis to improve the statistical power [89]. All samples (including intersex samples) were used for estimating dispersions. p value adjustment was performed using the false discovery rate controlling procedure [90]. Contigs with an adjusted p value less than 0.05 and a fold change larger than 2 were reported as significantly differentially expressed between sexes in the gonad, while contigs with an adjusted p value less than 0.05 were reported as significantly differentially expressed between sexes in the brain.
Gene ontology and pathway analysis
Contigs showing significantly sex-biased expression in the gonad were searched against the Ensembl zebrafish protein database (BLASTX, E-value cut-off 10−10). Matched zebrafish protein IDs were converted to unique Ensembl zebrafish gene IDs via BioMart [91]. These gene IDs were imported into the Database for Annotation, Visualization, and Integrated Discovery (DAVID, v6.7) [92] for functional annotation and enrichment analysis, using the default zebrafish database in DAVID (v6.7) as the background. Gene ontology (GO) [93] and pathway analysis [94] was carried out only for the gonad because there were not enough differentially expressed contigs detected in the brain. GO terms of level one and Kyoto Encyclopedia of Genes and Genomes (KEGG) pathways with a fold enrichment above 1.2 and p value below 0.05 are shown in Figs. 4 and 5. GO terms and KEGG pathways with p values below 0.05 after adjustment using the Benjamini and Hochberg (BH) procedure are indicated by stars.
Results and discussion
De novo transcriptome assembly
The Illumina HiSeq 2000 sequencing produced more than two billion 100-bp paired-end reads (1,106,170,692 read pairs). The raw sequence data in FASTQ format have been submitted to the National Centre for Biotechnology Information (NCBI) Sequence Read Archive (SRA) database and are accessible under accession number SRP06302. After trimming, 1,586,678,582 (71.7 %) high-quality reads were retained for the transcriptome assembly.
The de novo assembled transcriptome using Trinity [72] resulted in 230,626 contigs with a N50 of 1,146 bp and minimum and maximum contig lengths of 201 and 27,427 bp, respectively. There are 77,632 contigs having a length of 500 bp or more. Short contigs (<500 bp) were retained for annotation and mapping because many neuropeptides have a short protein sequence.
Assembly quality was assessed by three means: the representation of core eukaryotic genes, predicted chimeric rate, and full-length recovery of the bluehead wrasse expressed sequence tags (ESTs) and Nile tilapia protein sequences (Ensembl release 75) [79]. All CEGMA KOGs (the eukaryotic orthologous groups) [77] were present in this assembly (98 % complete, 100 % partial). The predicted chimeric rate [76] was 3.2 %. All of the bluehead ESTs were recovered (BLASTN, E-value ≤10−50): 14 ESTs with >90 % recovery and 3 ESTs with 70–80 % recovery. Fifty-eight percent of Nile tilapia protein sequences had a match in the bluehead wrasse transcriptome assembly with alignment coverage above 90 % (BLASTX, E-value ≤10−10).
Transcriptome annotation
The bluehead wrasse transcriptome assembly was searched against the UniProt (Swiss-Prot and TrEMBL) protein database [
81
] (BLASTX, E-value ≤10
−10
, keeping the top hit). In total, 41,799 contigs (18 %) had significant hits to 34,275 unique protein sequences. Of these sequences, 94 % came from ray-finned bony fishes while only 63 contigs matched to bacterial sequences (Fig.
1
). This indicates negligible contamination of bacteria, which is consistent with expectations that our assembly comprises mainly brain and gonadal coding RNAs.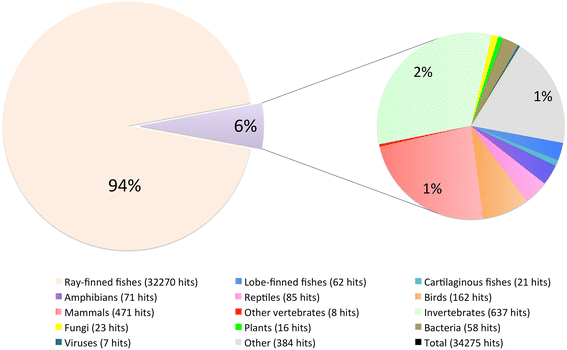 Searching against the Ensembl protein databases [
79
] (BLASTX, E-value ≤10
−10
, keeping the top hit), we found 16–17 % of the assembled contigs had a significant BLASTX match (E-value ≤10
−10
, keeping the top hit). Of 26,763 input Nile tilapia protein sequences, 20,182 sequences were found in our assembly (Table
1
). Similar results have been reported in two other non-model fish transcriptomes [
20
,
95
].
Table 1
Annotation of the de novo transcriptome assembly
| Species | Nile tilapia | Zebrafish | Medaka | Zebrafish |
| --- | --- | --- | --- | --- |
| Ensembl database type | Protein | Protein | Protein | ncRNA |
| Contigs with hits | 38,606 | 37,149 | 36,695 | 168 |
| Unique hits | 20,182 | 20,496 | 17,994 | 149 |
| Input sequences | 26,763 | 43,153 | 24,674 | 8319 |
| Cut-off E-value | 10−10 | 10−10 | 10−10 | 10−5 |
Surprisingly, a large portion (82 %) of the contigs had no significant BLASTX match to any known protein sequence. These sequences were searched against the Ensembl zebrafish ncRNA database [
79
] (BLASTN, E-value ≤10
−5
, 8819 input ncRNA sequences), but only 93 contigs had a match, including processed or antisense transcripts with no protein product, miRNA, miscRNA, snoRNA etc. Putative ORFs were searched in both annotated and unannotated contigs using OrfPredictor [
82
]. The length distribution of the longest ORFs is shown in Fig.
2
. Briefly, over 98 % of the contigs contained ORFs, but most (69 %) were smaller than 300 bp. Almost all of the unannotated contigs (>99 %) had an ORF smaller than 600 bp. These contigs may represent novel protein-coding transcripts, fragmented UTRs, pre-mature mRNA sequences with retained introns, or polyadenylated non-coding RNAs of potential biological importance. At present, however, it is still challenging to provide complete annotations for a
de novo
assembled transcriptome, especially for a non-model teleost fish for which few genomic resources are available. Multiple BLAST searches provide a powerful means for automated annotations but are limited by available sequences, sequence similarity among homologues, and alignment sensitivity. Future genome sequencing and more information on alternatively spliced isoforms and non-coding RNAs will improve our current annotation. It will be useful to revisit these data as more gene sequences become available.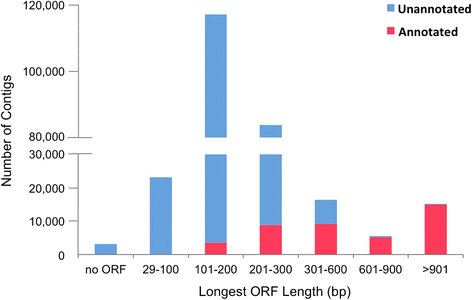 Differential gene expression between female and TP male
All of the contigs were kept for read mapping, and the RSEM [84] expected value table of contigs (representing isoforms) was used for expression analysis. This allows detection of isoform-specific expression patterns and clustering of the contigs based on both annotations and expression patterns.
In total, 889,652,430 raw read pairs (from control females and TP males) were mapped back to the reference transcriptome assembly [83]. In this paper, we focused on the sex-biased gene expression; thus, we only report the comparison between females and TP males.
Conclusions
The genetic basis of sexual dimorphism in teleost fishes and the molecular mechanisms underlying the protogynous and protandrous sex change common to teleosts remain to be fully elucidated. In this study, we took advantage of high-throughput sequencing technology to generate the first high-quality transcriptome for a protogynous fish, the bluehead wrasse. This resource will make future comparative and experimental analyses of protogynous sex change possible. We also identified a large number of genes that exhibit sexually dimorphic expression in the gonad and several sex-biased genes in the forebrain/midbrain of bluehead wrasses. These genes include most known vertebrate sex-related genes as well as numerous novel genes that currently lack annotation but may well have important biological roles in sex differentiation and/or sex change. In addition, we find that most candidate genes implicated or known to be involved in sex determination and differentiation in other vertebrate systems showed conserved expression patterns in the bluehead wrasse with a few exceptions. This suggests that some subtle variability in the standard sex-determination regulatory network, although having evolved from a conserved toolkit, could be responsible for the sexual plasticity in these fishes. Overall, this study provides not only key data on the molecular basis of sexual dimorphism in the brain and gonad of bluehead wrasse, but also valuable resources for investigating the molecular pathways that underpin this extraordinary example of sexual plasticity in response to environmental influences. Further examination of the gene expression dynamics across the process of protogynous sex change will uncover the genetic cascade that progressively re-engineers a female into a male.
Availability of supporting data
All sequencing data have been uploaded to NCBI Sequence Read Archive under accession number SRP06302.
Declarations
Acknowledgements
We would like to thank Brian Haas for his help with the de novo transcriptome assembly and Alice Dannis, Thomas Buckley, Margaret Ryan, and Lei Ma for their helpful input on the RNA-seq data processing and analysis. We are grateful to Erica Todd for her valuable comments on drafts of the manuscript.
Financial support for this study has been provided by the Marsden Fund [UOO1308], a University of Otago Research Grant, and funds from the Department of Anatomy at the University of Otago, W.M. Keck Center for Behavioral Biology at North Carolina State University, and Department of Biological Sciences at North Carolina State University. HL is supported by the University of Otago PhD scholarship.
Open AccessThis article is distributed under the terms of the Creative Commons Attribution 4.0 International License (http://creativecommons.org/licenses/by/4.0/), which permits unrestricted use, distribution, and reproduction in any medium, provided you give appropriate credit to the original author(s) and the source, provide a link to the Creative Commons license, and indicate if changes were made. The Creative Commons Public Domain Dedication waiver (http://creativecommons.org/publicdomain/zero/1.0/) applies to the data made available in this article, unless otherwise stated.
Authors' Affiliations
(1)
Department of Anatomy, University of Otago, Dunedin, New Zealand
(2)
Department of Biological Sciences, North Carolina State University, Raleigh, USA
(3)
W.M. Keck Center for Behavioral Biology, North Carolina State University, Raleigh, USA
(4)
Department of Biochemistry, University of Otago, Dunedin, New Zealand