Sex differences in the neural mechanisms mediating addiction: a new synthesis and hypothesis
Biology of Sex Differences
2012
3:14
Received: 10 January 2012
Accepted: 7 June 2012
Published: 7 June 2012
Abstract
In this review we propose that there are sex differences in how men and women enter onto the path that can lead to addiction. Males are more likely than females to engage in risky behaviors that include experimenting with drugs of abuse, and in susceptible individuals, they are drawn into the spiral that can eventually lead to addiction. Women and girls are more likely to begin taking drugs as self-medication to reduce stress or alleviate depression. For this reason women enter into the downward spiral further along the path to addiction, and so transition to addiction more rapidly. We propose that this sex difference is due, at least in part, to sex differences in the organization of the neural systems responsible for motivation and addiction. Additionally, we suggest that sex differences in these systems and their functioning are accentuated with addiction. In the current review we discuss historical, cultural, social and biological bases for sex differences in addiction with an emphasis on sex differences in the neurotransmitter systems that are implicated.
Keywords
AddictionDopamineAcetylcholineNorepinephrineDynorphinCocaineHeroin
Introduction
The path from initial drug use to addiction is often described as a downward spiral [
1
]. The euphoria of first use deteriorates with habituation, to be replaced with heightened incentive salience associated with the drug and the cues that predict the drug as well as dysphoria in the absence of the drug. This is followed by addiction, compulsive craving for the drug, and exacerbation of dysphoria with drug withdrawal. While this narrative may capture the changing relationship between users and their drugs over time, it fails to recognize the diverse reasons contributing to initiation of drug use, which may ultimately influence how quickly an individual develops addiction. For many, illicit drugs are initially taken for their positive reinforcing effects, such as feelings of euphoria, energy, focus or sexual enhancement (Figure 
1
). For many other individuals, illicit drug use is initiated primarily to self-medicate another condition (i.e. negative reinforcement), such as depression, anxiety, chronic pain or post-traumatic stress disorder (PTSD), just to name a few. Thus, in these latter individuals, drug use provides temporary relief and functions as a maladaptive coping strategy to deal with the alterations in reward-related processes and affective state that characterize each psychopathology.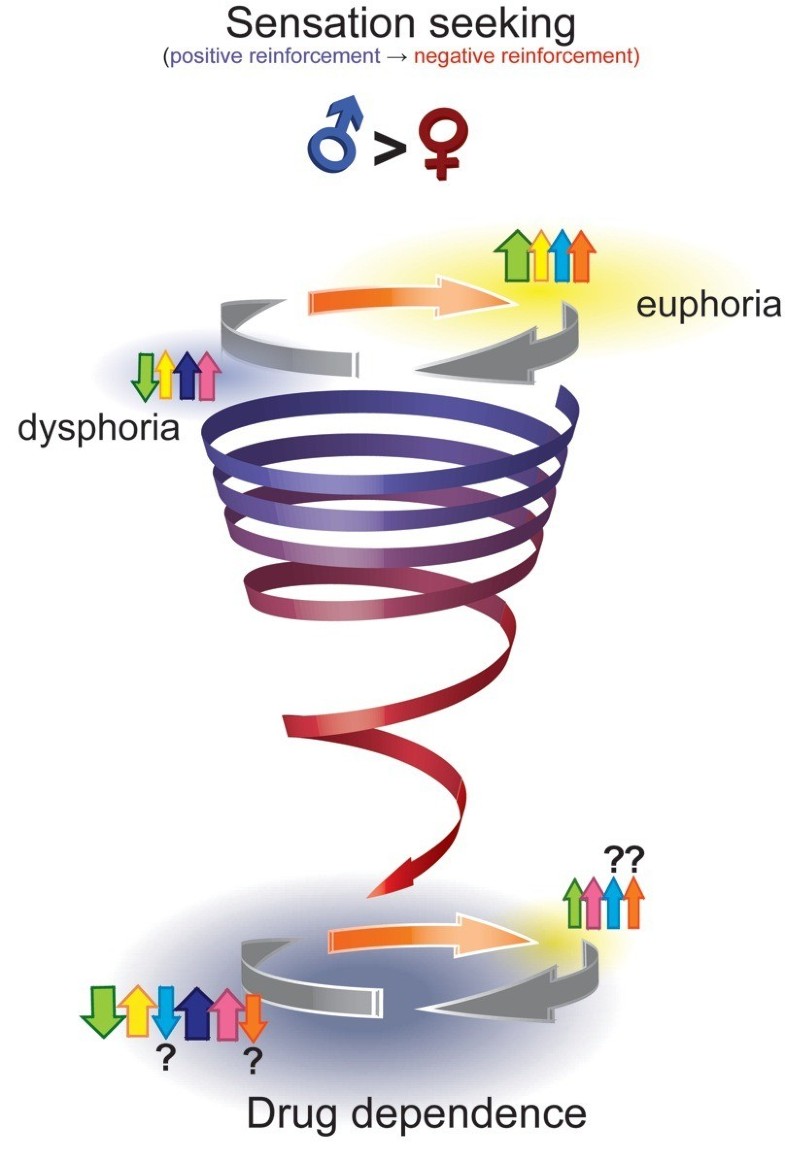 While the basic neural systems involved in positive and negative reinforcement, are similar in males and females, sex differences are present in how these neural systems are organized, activated and connected with the rest of the brain, and these are postulated to underlie sex differences in the path to addiction. Additionally, sex differences in these systems and their functioning are accentuated with drug use and the progression towards addiction. There is an extensive body of literature concerning the neural systems contributing to the development of addiction. In general, the monoamine systems (e.g., dopamine (DA) and norepinephrine (NE)), neuropeptides (e.g., corticotropin-releasing factor (CRF) and the endogenous opioid peptides) and others (e.g., acetylcholine (ACh)) have been shown to participate in either the rewarding effects of abused drugs or their negative effects observed during withdrawal. With the exception of the DA system [2–4], little attention has been paid to sex differences in these other systems and how they might differentially contribute to the risk of addiction in males and females.
It is the thesis of this review that sex differences exist along every aspect of the spiral pathway towards addiction. In addition, we propose the existence of a second "steeper" spiral, for which initiation of drug taking occurs to alleviate self-perceived symptoms of (stress-related) psychiatric disorders. There are sex differences in why men and women enter onto the path that can lead to addiction. Men and boys are more likely to engage in risky behaviors that include experimenting with drugs of abuse primarily for their positive reinforcing effects. In susceptible males, they are drawn into the spiral that can eventually lead to addiction. Women and girls are more likely to take drugs to reduce stress or alleviate psychological distress (e.g., depression and PTSD), thus they enter into the downward spiral already burdened with neurological changes that may promote their transition to addiction more rapidly. We propose that neither mode of entry into the spiral is exclusive for men or women, but rather, different proportions of men and women enter through the two spirals. Our thesis is that in the presence of stress-related psychopathologies, or border-line disorders, the transition from drug use to dependence will be faster. In addition, sex differences in the underlying neurobiological mechanisms of these disorders interact with the effect of drugs of abuse to result in sex differences in the consequences of drug use and abuse in a more vulnerable population.
We begin with an historical overview of evidence for sex differences in addiction and drug abuse in humans. This is followed by descriptions of the effects of drugs of abuse with initial drug use, consequences of chronic drug use and several of the brain systems involved. Sex differences will be illustrated throughout each section. We will focus mostly on the psychostimulants and opiates.
We hope this review will accomplish at least two objectives: 1) highlight the seemingly ubiquitous presence of basal sex differences in nearly every system implicated in addiction, and 2) reveal the shocking lack of knowledge of how these differences contribute to divergent (or similar) responses to drugs of abuse and the development of addiction in males and females.
Review and conclusions
Our theoretical model presented in Figure 5 is based on the evidence reviewed above demonstrating that there are sex differences in the clinical presentation of addiction and in the neural substrates contributing to addiction. The model highlights three concepts that are essential to understanding the neurobiology of addiction: 1) addiction affects many different brain regions; 2) addiction manifests as a constellation of clinical features that collectively result in the maladaptive behavior exhibited by addicts; and 3) the presence of psychopathologies prior to drug use impacts the rate of deterioration into addiction. The magnitude of involvement of individual systems is hypothesized to differ between males and females, as described in Figure 2 and discussed above. Considered together, it is clear that effective treatments for addiction will require sex/gender-specific combinations of drugs targeting the multiple systems that are dysregulated in the addicted brain, and additionally consider comorbid psychopathologies.
Females show enhanced engagement of the DA system during initial drug exposure. As discussed above there is initially greater release of DA and an enhanced sensitivity to inhibition of uptake by stimulants in females. Chronic drug use results in a hypodopaminergic state within the striatum of both sexes, which has a greater impact in females due the enhanced sensitivity to DA. Drug use and exposure to drug-related cues are associated with increases in DA release, however, reduced DA levels between periods of drug use result in a state of dysphoria and anhedonia in which interest in natural rewards and previously preferred activities is reduced. This period is associated with enhanced drug-seeking behavior as the addict seeks to reduce craving and alleviate the dysphoria. In fact, drug use may be seen as a form of self-medication to deal with the abnormally low DA levels. Chronic drug use is also associated with enhanced engagement of NE signaling within the CeA/BST and NAc, which contributes to the negative affective state, dysphoria, anxiety and irritability associated with withdrawal. In females this negative state is exacerbated due to greater noradrenergic and CRF activity.
The sexually dimorphic behavioral patterns of drug abuse are hypothesized to be due to sex differences in the neural systems mediating acquisition and escalation of drug taking behavior. The areas of the brain involved in the neural basis for motivation begin conceptually with the ascending DA systems that project from the SN/VTA to the DS, NAc, CeA/BST, Fcx. These DA projections are involved in the initiation of drug taking and according to some models the progression from use to compulsive drug use [462].
Comorbidity between drug abuse and stress-related psychiatric disorders is associated with more psychological and social problems and poorer outcome, especially in women. Brain circuitry affected by these disorders overlaps with circuitry involved the effects of drugs of abuse, which could exacerbate the effects of drugs of abuse and lead to higher risk of transitioning from drug use to dependence and a faster escalation of drug use.
Implications for treatment
There are very few effective treatments for psychostimulant addiction, and as such frequent relapses are a hallmark of the addiction cycle [463–465]. Naltrexone and disulfiram have been shown to reduce cocaine intake in men, but these treatments are not effective in women [466, 467]. It is therefore important to test possible pharmacological interventions in both males and females. Mitigating the negative effects associated with addiction, like dysphoria, anxiety and irritability will likely reduce the frequency of drug taking and the chance of relapse. The stress-axes and κ-opioid/DYN signaling are involved in mediating these withdrawal symptoms, and pharmacological interventions targeting these systems could prove to be therapeutically interesting. With women being more sensitive to stress-induced craving, and sex-differences being present in the stress system, noradrenergic projections, and in κ-opioid/DYN signaling, it is conceivable that sex/gender will affect treatment outcome of pharmacological interventions targeting these systems.
The βAR antagonist propranolol has modest effects in promoting treatment retention and cocaine abstinence, which are mostly observed in individuals with more severe withdrawal symptoms [468, 469]. Thus, noradrenergic antagonism on its own may only be effective at targeting the negative affective state ostensibly mediated by increased NE signaling in the CeA/BST.
There are even fewer studies examining the efficacy of cholinergic manipulations on clinical outcomes of stimulant addiction [470]. In general, AChE inhibitors have modest effects that are most pronounced on the subjective effects of stimulants, with little effect on actual drug use [471–473]. The relatively modest (or absent) effects of AChE inhibitors might relate to the fact that they chronically elevate ACh concentrations, which can lead to desensitization and loss of nicotinic receptors or promote the non-selective activation of both M1- and M2-like receptors.
The effects of more selective cholinergic manipulations on drug use in humans have also been examined. The administration of nicotine attenuated the subjective effects of intranasal (but not intravenous) cocaine, and increased the latency for detecting the effects of cocaine and euphoria [474, 475]. Pre-treatment with mecamylamine, a nicotinic antagonist, was also shown to reduce cue-induce craving in cocaine addicts [417], whereas varenicline, a partial α4β2 agonist and full α7 agonist, tended to promote abstinence and reduced the rewarding value of cocaine [476]. The effects of nicotinic agonists and antagonists may result in similar effects through tonic activation and desensitization of nicotinic, which could explain why both treatments reduce the sensitivity to drugs and their cues. Preclinical research suggests that muscarinic interventions might also be beneficial [396, 416, 470, 477]; however, we are not aware of any clinical data on the effects of selective muscarinic treatments on stimulant addiction. In the most of the studies examining cholinergic manipulations, the majority (or in some cases all) of the participants were men; therefore, it is also difficult to say whether men and women will show similar effects.
Opiate addiction is on the rise again, especially in relation to the abuse of prescription drugs. Unintentional overdose deaths involving opioid pain relievers have increased dramatically since 1999, and by 2007, outnumbered those involving heroin and cocaine [478]. Although more men than women use heroin, young women show a higher rate of dependence to non-medically used psychotherapeutics, which include pain relievers, sedatives, stimulants, and tranquilizers. The reason for using appears to be different between men and women, with men going for the high and rush, whereas women use it more as a form of self-medication [23]. This could reflect a difference in underlying neurobiological mechanisms on which the drugs act and have implications for possible pharmacological interventions. Studies using self-administration of opioids in both males and females are few, and if chronic exposure to self-administered opioids have differential effects on the brain of males and females as would be predicted from the data presented in this review, risk factors and treatment options will also be sexually dimorphic. With discreet behavioral profiles and neurobiological substrates of cocaine and heroin addiction [479], it cannot be expected that sex-specific findings for cocaine can be extrapolated to opioids.
Concluding remarks
Currently, preclinical research is focused primarily on examining the acute effects of stimulants and other abused drugs and how they are influenced by pharmacological interventions. While these acute responses to drugs of abuse can provide valuable information about possible mechanisms of action, they are less informative in regards to developing new pharmacotherapies for addiction. This is because chronic drug abuse induces major changes in the brain that are often different from those occurring in response to passive drug exposure. Thus, in order for pharmacological interventions to be effective, they must target what is "wrong" in the addicted brain, which will likely not respond similar to a healthy brain exposed to acute drugs of abuse. It is therefore important to investigate possible pharmacological interventions in animal models that better reflect the suite of behavioral (and ostensibly neurochemical) changes that occur following chronic drug use, especially as they relate to addiction-like criteria.
Additionally, little is known about the neurobiological consequences of chronic exposure to drugs of abuse in females. While data collected from male subjects provide important information of how the male brain copes with repeated stimulation of the reward system, it is unlikely that the female brain responds in the same way. With drugs of abuse having sex-specific effects on behavior and the brain, it is vital to test effectiveness of new treatments and underlying neurobiological mechanisms in both male and female subjects.
Endnotes
1The Harrison Tax Act is the reason the Dept. of the Treasury was responsible for enforcement of drug laws until the 1969 Dangerous Substances Act was enacted.
Abbreviations
ACh:

acetylcholine
AChE:

acetylcholine-esterase
ACTH:

adrenocorticotropic hormone
AMPH:

amphetamine
AR:

androgen receptor
BST:

bed nucleus of the stria terminalis
CAST:

castration
CeA:

central nucleus of the amygdala
ChAT:

choline Acetyltransferase
CORT:

cortisol/corticosterone
CPP:

conditioned place preference
CRF:

corticotropin releasing factor
D1:

D2,D5, dopamine receptor 1, 2 or 5
DA:

dopamine
DAT:

dopamine transporter
DS:

dorsal striatum
DYN:

dynorphin
E2:

estradiol
EM:

endomorphin
END:

endorphin
ENK:

enkaphalin
ER:

estrogen receptor
Fcx:

frontal cortex
GABA:

gamma-aminobutyric acid
HPA-axis:

hypothalamic-pituitary-adrenal-axis
LC:

locus coeruleus
MSN:

medium spiny neuron
MAChR:

muscarinic acetylcholine receptor
Nac:

nucleus accumbens
NAChR:

nicotinic acetylcholine receptor
NE:

norepinephrine
NET:

norepinephrine transporter
NTS:

nucleus of the solitary tract
OR:

opioid receptor
OVX:

ovariectomy/ovariectomized
P:

progesterone
PTSD:

post traumatic stress disorder
SN:

substantia nigra
T:

testosterone
TH:

tyrosine hydroxylase
VTA:

ventral tegmental area.
Declarations
Acknowledgements
Financial support for this research was contributed by NIH grant R01-DA012677 to JBB. AP was supported by NIH DA007268 (T32).
Authors' Affiliations
(1)
Molecular and Behavioral Neuroscience Institute, University of Michigan, Ann Arbor, USA
(2)
Department of Psychology, University of Michigan, Ann Arbor, USA
(3)
Neuroscience Program, University of Michigan, Ann Arbor, USA
(4)
Department of Psychiatry, University of Michigan, Ann Arbor, USA
Copyright
© Becker et al.; licensee BioMed Central Ltd. 2012
This article is published under license to BioMed Central Ltd. This is an Open Access article distributed under the terms of the Creative Commons Attribution License (http://creativecommons.org/licenses/by/2.0), which permits unrestricted use, distribution, and reproduction in any medium, provided the original work is properly cited.