Strategies and methods to study female-specific cardiovascular health and disease: a guide for clinical scientists
Biology of Sex Differences
2016
7:19
Received: 25 November 2015
Accepted: 21 March 2016
Published: 31 March 2016
Abstract
Background
In 2001, the Institute of Medicine's (IOM) report, "Exploring the Biological Contributions to Human Health: Does Sex Matter?" advocated for better understanding of the differences in human diseases between the sexes, with translation of these differences into clinical practice. Sex differences are well documented in the prevalence of cardiovascular (CV) risk factors, the clinical manifestation and incidence of cardiovascular disease (CVD), and the impact of risk factors on outcomes. There are also physiologic and psychosocial factors unique to women that may affect CVD risk, such as issues related to reproduction.
Methods
The Society for Women's Health Research (SWHR) CV Network compiled an inventory of sex-specific strategies and methods for the study of women and CV health and disease across the lifespan. References for methods and strategy details are provided to gather and evaluate this information. Some items comprise robust measures; others are in development.
Results
To address female-specific CV health and disease in population, physiology, and clinical trial research, data should be collected on reproductive history, psychosocial variables, and other factors that disproportionately affect CVD in women. Variables related to reproductive health include the following: age of menarche, menstrual cycle regularity, hormone levels, oral contraceptive use, pregnancy history/complications, polycystic ovary syndrome (PCOS) components, menopause age, and use and type of menopausal hormone therapy. Other factors that differentially affect women's CV risk include diabetes mellitus, autoimmune inflammatory disease, and autonomic vasomotor control. Sex differences in aging as well as psychosocial variables such as depression and stress should also be considered. Women are frequently not included/enrolled in mixed-sex CVD studies; when they are included, information on these variables is generally not collected. These omissions limit the ability to determine the role of sex-specific contributors to CV health and disease. Lack of sex-specific knowledge contributes to the CVD health disparities that women face.
Conclusions
The purpose of this review is to encourage investigators to consider ways to increase the usefulness of physiological and psychosocial data obtained from clinical populations, in an effort to improve the understanding of sex differences in clinical CVD research and health-care delivery for women and men.
Keywords
WomenSex-specificCardiovascular disease
Background
Despite cardiovascular disease (CVD) being a major health-care burden and the leading cause of death in women and men in the USA, marked disparities in cardiovascular health persist between the sexes [1, 2]. Indeed, more women die annually from CVD compared with men [3]. While some studies have shown an improvement of CV outcomes in women versus men over time [3–5], others have not [6, 7]. In particular, CVD mortality is increasing in women between the ages of 35 and 54 years [8]. The reasons for this increase are controversial and reflect our limited understanding of the sex differences in physiology between women and men, which is substantially related to lack of female-specific data.
The recognition of sex differences in the pathophysiology and the expression of human disease, including CVD, led to the NIH mandate to include both women and men in clinical studies and trials and to analyze data by sex [9]. However, the number of identified variables contributing differentially to CVD outcomes in women and men is large and growing. Variables that influence CVD risk include sex chromosomes [10], hormonal status [11], disorders related to reproduction and pregnancy [12], aging, and sex and gender-specific psychological or psychosocial variables [13, 14]. Many of these variables are not considered during the design of clinical trials or longitudinal cohort studies, which reduces the ability to determine sex-specific contributors to health and disease. The lack of inclusion of sex-specific data collection also limits the ability to analyze sex differences.
The purpose of this review is to highlight variables that may contribute to our understanding of CVD in women (Table
1
). We will also outline strategies and methods used in population, physiological/translational, and clinical trial research that will enable the optimization of CVD investigation and outcomes in women.
Table 1
Variables affecting women across their lifespan
I. Reproductive health

Hypoestrogenemic conditions

Polycystic ovarian syndrome is associated with vascular changes [20, 229, 230]

Stress reduces pituitary LH and FSH secretion leading to anovulation and secondary hypoestrogenemia [31, 32].

Pregnancy hypertension

A women's recall of pregnancy hypertensive disorders is specific but sensitivity varies and the positive predictive value is low [65]. Investigators have suggested standardization of study design for research involving women with preeclampsia [231]

Maternal/fetal exposure to other pregnancy disorders

Women with histories of preeclampsia, gestational diabetes, small-for-gestational-age deliveries, or preterm deliveries (whether spontaneous or medically indicated) are at about twofold the increased risk of coronary heart disease and stroke compared with women who have had pregnancies uncomplicated by these factors [12]

Microchimerism

Fetal cells passage transplacentally into the maternal circulation during pregnancy and persist for decades (this is termed fetal microchimerism or FMC). FMC is potentially associated with detrimental effects, e.g., preeclampsia and autoimmune disease, and with beneficial effects, e.g., female longevity due to regeneration and repair due to FMC. FMC has been identified in explanted idiopathic cardiomyopathy hearts [77] and the frequency and concentration are higher in women with preeclampsia [78, 232]

Early menopause

Associated with greater coronary artery disease and stroke risk [58]

II. Sex hormones

Endogenous sex hormones

Sex hormone levels are associated with body composition, incident diabetes, and other risk factors [233].

Hormone therapy and age of therapy

Sub-analyses from Women's Health Initiative indicate age of hormone therapy (HT) may impact risk/benefit. The KEEPS trial showed no difference in progression of carotid intima-media thickness in women treated early post-menopause with oral or transdermal estrogen [46]

III. Psychosocial issues

Depression

More common in women and associated with incident CVD and worse prognosis [234, 235]. The AHA has recognized depression as a risk factor for poor prognosis among patients with acute coronary syndrome [236]

Stress

Reduces pituitary LH and FSH secretion leading to anovulation and secondary hypoestrogenemia [31, 32]

Elderly age

Women are the majority of the elderly with high burden of CVD [161]

IV. Other variables

Impact of diabetes

DM confers greater risk in women than men [171]

Non-atherosclerotic coronary disease

Vasomotor dysfunction and coronary microvascular disease are often not considered despite women having lower prevalence of obstructive CAD [34]

Inflammatory autoimmune disease

Rheumatologic disorders, particularly systemic lupus erythematosus and rheumatoid arthritis, are more prevalent in women and are associated with more prevalent CVD [176, 237, 238]
Population research
Population research provides a unique opportunity to gather information that allows comparison of both traditional and novel CVD risk factors by sex. Previous reviews from our group and others have discussed sex and gender differences in CVD risk but have not provided guidelines for the collection of data that could expand beyond traditional risk factors [15–18]. For example, in addition to the commonly collected demographic variables, population researchers should consider including hormonal characteristics [19], sex hormonal status, pregnancy-related disorders [12], polycystic ovary syndrome (PCOS) [20], and psychosocial issues such as depression [21], abuse and domestic violence [22, 23], and post-traumatic stress disorders (PTSDs). Including this information in appropriate databases will expand the scientific understanding of the contribution of sex-related variables to sex differences in clinical CVD and increase knowledge about CVD in women and men. Data collection methods are discussed in below.
Physiological research
There are important physiological sex differences in CVD with implications for outcomes and therapies, including coronary microvascular dysfunction, heart failure with preserved ejection fraction (HFpEF), Takotsubo cardiomyopathy, mortality due to drugs such as digoxin and QT-prolonging medications, and post-myocardial infarction (MI) depression, to name a few [15, 149]. A mounting literature documents important sex differences in pharmacology, including beta blockers, angiotensin-converting enzyme (ACE) inhibitors, and chemotherapeutic agents that have cardiovascular toxicity [150]. Accordingly, it is useful to examine the spectrum of physiological mechanisms (i.e., autonomic, metabolic, hormonal structural, and endothelial) for CVD that may differ between women and men, in order to most appropriately design sex-specific clinical studies and trials.
Clinical trials
Death due to CVD in females emerged rapidly as an epidemic in 1984 and persists today [
202
,
203
] despite an overall decline in CVD death rates starting in the 2000s. Both an excess of death due to CVD, and an absence of understanding of the root causes of CVD in women, remains. Recommendations to improve the evidence base for women are listed in Table
2
and discussed further below.
Table 2
Recommendations to improve the evidence base for women with CVD [16]
| | |
| --- | --- |
| 1) Improve trial design | |
|   a) Power trials to test heterogeneity in outcomes by sex | |
|   b) Explore further such heterogeneity when identified | |
|   c) Form a statistics working group to develop alternative statistical methods | |
| 2) Better enrollment in trials | |
|   a) Increase use of proven recruitment and retention strategies | |
|   b) Research to understand sex-related differences in recruitment and retention of subjects and how to overcome them | |
|   c) Employ regulatory and reimbursement strategies | |
|   d) Better Centers for Medicare and Medicaid Services coverage of trial expenses | |
| 3) Mandate reporting of primary and secondary results in clinical trials by sex | |
|   a) Journal editors require sex-specific reporting in all primary manuscripts | |
|   b) Publish or web post brief secondary presentations and/or papers on results in women | |
|   c) Explore alternative ways to enhance accessibility of new and existing data for review and for incorporation into meta-analyses | |
| 4) Create incentives to enhance the performance of research in women | |
|   a) Alter pre-market investigational paradigm regarding sex-based data | |
|   b) Identify business incentives | |
|   c) Implement new FDA policies requiring discussion of the impact of sex before devices or drugs receive approval | |
|   d) Consider extensions in patent duration for enhanced pre-clinical testing of drugs and devices in women | |
|   e) Increase awareness of the problem among investigators, industry, and regulators | |
Recruitment, enrollment, and retention of women
Women (minority women in particular) are underrepresented in cardiovascular clinical trials [
204
] (Fig.
2
). Basic and clinical research often ignores the possibility of sex-related differences when designing and interpreting studies. Inclusion of women and sex-specific reporting of outcomes in clinical research remains a significant concern. An initial review of the newly mandated Federal Drug Administration (FDA) snapshots demonstrates that newly approved drugs include approximately only one-third women subjects [
205
]. Of great concern is that a majority of medications withdrawn following FDA approval are due to unanticipated adverse effects in women [
206
].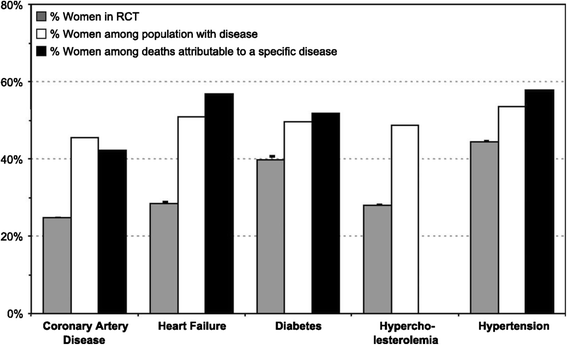 In 1986, the National Institutes of Health (NIH) established a policy for inclusion of women in clinical research, and the 1987 NIH guide encouraged the inclusion of minorities in clinical research studies. Congress transformed what previously had been policy into Public Law in the NIH Revitalization Act of 1993 (PL 103-43), which reinforced existing NIH policies but with four major differences, including (1) inclusion of women and ethnic minorities, (2) valid representation of same, (3) precludes cost exclusion, and (4) initiates recruitment and retention activities (Table
3
). Subsequent activity included the establishment of a NIH tracking and inclusion committee as a monitoring group because the 1990 General Accounting Office (GAO) found that NIH policy on inclusion was inconsistently applied and had not been well communicated or understood within NIH or the external research community. Additional actions were implemented in 2001 and included (1) conversion of guidelines regarding inclusion of women and minorities into policy; (2) new terms and conditions for phase III clinical trials; (3) incorporation of these into NIH solicitations, applications, and contracts; and (4) incorporation into application reviews. As part of the continuing implementation and monitoring activities, a new enrollment/recruitment form that documented subjects' gender became mandatory in May 2005 and required the revised categories to be used when reporting racial and ethnic data. A 2011 monitoring compliance report details the population analysis data required for both extramural and intramural research [
207
]. Thus, although the NIH Guidelines are not new and continued monitoring of adherence to the NIH policy is underway, the numbers of women in CVD clinical trials alongside men remains low. In October 2015, the General Accounting Office reported its findings on women's participation in NIH-funded clinical trials as a result of a performance audit from September 2014 to October 2015 [
208
]. The GAO reported improvement in inclusion of women over the past two decades. However, it was recommended that the NIH provide more detailed institute and center level enrollment data and examine approaches for aggregating more detailed enrollment data at disease and condition level and to collect data on monitoring and reporting plans for sex-difference analyses.
Table 3
NIH Revitalization Act of 1993 (PL 103-43)
| | |
| --- | --- |
| The act reinforced existing NIH policies but with four major differences: | |
| 1. That NIH ensure that women and minorities be included in all clinical research | |
| 2. That women and minorities be included in phase III clinical trials in numbers adequate to allow for valid analyses of differences in the intervention | |
| 3. That cost is not allowed as an acceptable reason for excluding these groups | |
| 4. That NIH initiates programs and support for outreach efforts to recruit and retain women and minorities as participants in clinical studies | |
Development of strategies to improve the quality of health care for women with CVD has been identified and recommendations are made [
16
]. Key components to improve quality care are depicted in Fig.
3
and include (1) enhance the quantity and quality of evidence-based medicine to guide care in women through improvements in trial design, enrollment and retention of women subjects, results analysis and reporting, and better incentives to perform research in women; (2) provide incentives to develop better data in women through mandating changes in the drug and device development and approval processes; (3) incorporate specific recommendations for women into guidelines when data are sufficient; and (4) apply proven sex-based differences in risk stratification, diagnostic testing, and drug usage and dosing in clinical care [
16
].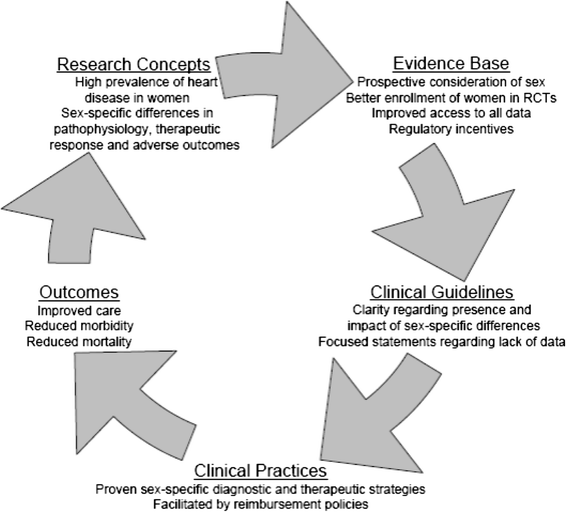 The elderly (dominantly women)
Women constitute the majority of the Medicare population and an even greater percentage of very elderly individuals. Incidence and prevalence of CVD increases with aging but particularly for women who develop clinical manifestations of CVD at later age than their male counterparts (mean age for presenting with ACS for men 69 years, women 72 years) [202]. Adults age ≥75 comprise fewer than 10 % of the US population yet constitute almost half of all patients with acute coronary syndromes and over two-thirds of all acute deaths from coronary disease. Exclusion or underrepresentation of elderly individuals in clinical trials doubly disadvantages elderly women, who have the highest incidence, prevalence, and adverse outcomes of acute coronary events [200–211]. Yet, in several large registries and a clinical trial [212], older patients treated with revascularization procedures versus medical therapy had a greater risk reduction in mortality than those younger than age 65, despite their multiple comorbidities [213, 214]. Of importance, age-related pharmacokinetic and pharmacodynamic changes can alter drug dosing, efficacy, and safety and this is often compounded by polypharmacy [215, 216] further disadvantaging women. Elderly women are the group least likely to be referred to cardiac rehabilitation, where exercise can improve their functional status and secondary prevention modalities can be reinforced [217, 218]. Elderly women have the most adverse outcomes from atrial fibrillation, particularly stroke, yet anticoagulant therapy is paradoxically underutilized. In the CHA2DS2-VASc score for risk stratification, age >75, age 65–74, and female sex all define increased risk [219].
Outcomes of cardiovascular clinical trials emphasize mortality benefit, with inattention to outcomes valued by many elderly patients—independence, decreased symptoms, improved functional capacity, and decreased hospitalizations. Clinical trials in elderly patients must incorporate indices of physical and cognitive function, consider comorbidities and polypharmacy, and address outcomes desired and valued by elderly patients [220].
Data maintenance and reporting by sex
While women have been, and remain under-represented in clinical trials [
204
], a great deal of data exist, but are not available to researchers, caregivers, or policymakers in that trial results are often not reported by sex [
221
] (Fig.
4
). Especially in view of requirements for inclusion of women in clinical trials, several recent studies have highlighted the importance of such reporting by emphasizing the clinical differences between sexes in the response to medications [
222
–
224
]. In addition, the side effect profile of pharmacologic agents may differ by sex, specifically, women are more likely to suffer torsades de pointes and increased bleeding [
225
,
226
] compared with men. Thus, strong scientific and clinical concerns suggest encouraging, if not requiring, that trials and research sponsors be obligated to separately report data generated in women. Moreover, this could also be accomplished by a requirement by journal editors to include sex-specific reporting in all primary manuscripts.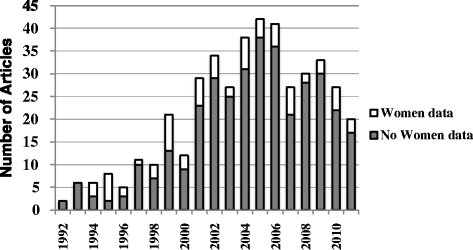 FDA requirements
In the Food and Drug Administration Safety and Innovation Act (Public Law No. 112-144) signed into law 9 July 2012 required demographic data and analysis of sex, age, race, and ethnicity to be posted in a report on the FDA website within a year of enactment and an action plan to be developed. In December 2011, the FDA issued a "Draft Guidance for Industry and Food and Drug Administration staff," on "Evaluation of Sex Differences in Medical Device Clinical Studies." This FDA document addresses the scope of the problem, the importance of considering sex differences, barriers to enrollment of women, and recommendations for achieving representative enrollment. This guide recommends for the disease or condition for which the device is intended to treat or diagnose: sex-specific prevalence, sex-specific diagnosis and treatment patterns; identification of proportions of women included in past studies for the target indications; and identification of any known clinically significant sex differences in outcomes related to either safety or effectiveness. The recommendation was that this information be included in the study and submission documents for (1) new or ongoing studies, (2) completed studies (marketing application stage), and (3) post-market studies (PHS 522 PS stage). In addition, altering pre-market investigational paradigms regarding sex-based data were encouraged by alignment of regulatory requirements and enhancement of business incentives for this purpose [207]. Included among the paradigms considered was that a discussion about the impact of sex should be undertaken before devices or drugs receive FDA approval. Tactics discussed included (1) inclusion of sex on the checklist for document preparation for FDA-sponsored meetings, (2) mandatory substantive review of available sex-specific data with each phase 2 report with obligatory inclusion in meeting minutes, and (3) amending ICH E3 guidelines. Similar requirements to tighten FDA regulations for reporting sex- and gender-based data about new and experimental medicines and devices were included in the Heart Disease Education, Analysis and Research, and Treatment (HEART) for Women Act proposed legislation introduced to the 112th Congress (2011–2012).
Another suggestion with broad implications was the consideration of a new policy allowing extensions in patent duration for additional research in women such as those granted for new pediatric indications, which have been highly successful in encouraging research on medications in children. Advocacy groups were encouraged to add technical expertise to better address these issues within their current missions. Finally, strategies to increase awareness of the problem among investigators, industry, and regulators have been endorsed, including requiring investigators to complete continuing medical education on sex differences in disease, multidisciplinary forums such as those held by the Drug Information Agency, educational seminars with FDA leadership, and increased use of existing NIH online educational materials [16].
Adverse event (AE) and serious adverse event (AE) reporting
Improving the accessibility of new and existing data for review and for incorporation into meta-analyses is needed [227]. AE and SAE data stratified by sex should be included in the primary or secondary manuscript and/or available in an appendix to the primary manuscript. Secondary presentations and/or papers on results in women or sex comparisons should be encouraged by conference chairs, editors, and academic institutions. Alternative ways should also be explored to make these data publicly available, such as online appendices. The American Heart Journal has already taken a public stand in favor of such reporting [16, 228]. Other novel approaches to improve data availability in women include enhancing the bioinformatics infrastructure to standardize electronic clinical data (Clinical Data Interchange Standards Consortium http://www.cdisc.org) to allow tracking of recruitment, analyzing data across clinical trials that alone do not have sufficient numbers of women for meaningful analyses, and analyzing of adverse events. Recently, the FDA has embarked on an ambitious bioinformatics modernization effort that includes an effort to harmonize with the standards being used in exchange of Electronic Health Records, which may improve our ability to detect important sex differences [227].
Statistical analysis: how to analyze by sex, what needs to be considered to analyze in sex-specific fashion, analyze adjusting for sex, and analyzing for interaction by sex
A variable for male or female is usually collected in clinical study datasets. We advise that a clear definition of the term is provided for each study. Sex is the biologic variable and gender a self-declared variable encompassing psychosocial and cultural attributes. A primary consideration for sex-specific analyses is that if sex or gender is an a priori secondary analysis, then the enrolled cohort of women should be sufficiently powered for comparative analysis of the primary aim. Without this a priori planning, all reported sex and gender comparisons should include a post hoc statistical power calculation. In treatment trials, differential procedural effectiveness and complications as well as adherence to guideline-directed lifestyle and medical therapy should be reported as clinical management recommendations are often suboptimal among women as compared to men. Appendices reporting a more detailed analysis by sex/gender, including subsets (e.g., younger women) should be included for all major observational and clinical trials. Consideration should also be given to targeted population strata of women of diverse race and ethnicity as these subsets report the highest morbid and fatal event rates. In many cases, adjusted analyses are presented that control for clinical and comorbid covariates that may minimize sex differences. It is recommended that absolute rates of morbid and fatal event rates also be included with adjusted analyses. Care should be taken when women are matched to subsets of men by a priori chosen criteria (e.g., propensity matching techniques). Matching women to men may select a subset of atypical females and minimize unique sex-specific differences. If matching is performed, details as to how the selected women compared to the whole subset of females should be provided as well as additional sex stratified analyses.
Conclusions
Efforts to develop and use sex-specific information regarding women have increased over the last two decades, and while there is still a great need for more data, the evidence base has increased. We encourage investigators to consider these variables that have impact on women's CVD risk and outcomes when designing studies. Table
4
provides a summary of variables to consider and a sampling of proposed questions to document pregnancy, menopause, and psychosocial variables. Programs that involve women across their lifespan should also consider the participants' future risk for CVD risk. Incorporation of sex-specific knowledge into research strategies is aimed at improving clinical CVD outcomes and addressing health disparities for women.
Table 4
Variables to consider in studies of woman's cardiovascular disease and risk
General risk factors

Information to capture

Age

Height/weight

BMI

Waist circumference

Smoking status

Prior, current

History of hypertension

Blood pressure

Blood lipids (HDL, LDL, triglycerides)

Diabetes, glucose, insulin,

Inflammation: hsCRP

History of chronic inflammatory disease

(Asthma, inflammatory rheumatologic disease, migraine, inflammatory bowel disease)

Prior cancer

Type (breast, etc), chest radiation, chemotherapy

Prior CVD

Angina, myocardial infarction, cerebrovascular disease, coronary revascularization procedures, peripheral arterial disease, heart failure

Sex-specific or less conventional risk factors

Pregnancy-related variables

Questions to ascertain information

Parity

Number of pregnancies lasting >20 weeks

Fetal deaths

Number of miscarriages <20 weeks, stillbirths

History of preeclampsia

Have you ever had preeclampsia or toxemia?

History of gestational hypertension

Have you ever had gestational hypertension (pregnancy-related high blood pressure or pregnancy-induced hypertension)?

History of gestational diabetes

Have you ever had gestational diabetes (new onset diabetes of pregnancy)?

Offspring birthweight and gestation length (when assessed together, this allows calculation of small-for-gestational age and large-for-gestational age)

Birthweight of each child (lbs and ounces) and gestation length:

Low birthweight

Have you ever delivered an infant weighing less than 5 lbs 8 oz (less than 2500 g)?

Macrosomia (indicative of gestational diabetes)

Have you ever delivered an infant weighing more than 10 lbs (more than 4500 g)?

Menopause-related variables

Questions to ascertain information

Menopausal status

Have your natural menstrual periods ceased permanently? (No; Yes—no menstrual periods; Yes—had menopause but now periods induced by hormones; Not sure)

At what age did natural periods stop?

For what reason? (natural; surgical; radiation or chemotherapy; others)

Did you have a hysterectomy, if so at what age

Did you have removal of ovary (unilateral or bilateral) and if so, at what age

Current use of hormones

Are you currently using:

- Oral contraceptives,

- Transdermal hormone therapy

- Vaginal hormone therapy

Have you ever used these therapies?

Menstrual regularity

What is the current usual pattern of your menstrual cycles (when not pregnant, lactating, or on the pill): extremely regular (no more than 1–2 days before or after expected); very regular (within 3–4 days); regular (within 5–6 days); usually irregular; always irregular; no periods

Psychosocial Variables

Questions to ascertain information

History of violent abuse

Before age 18, did any adult in your family:

- Push, grab, or shove you

- Kick, bite, or punch you

- Hit you with something that hurt your body

- Choke or burn you

- Force you into sexual activity by threatening you, holding you down, or hurting you in some way when you did not want to

- Physically attack you in some other way

Responses: never; once; a few times; more than a few times

Since age 18, has anyone (repeat above)

Current depression screener

Clinical screener recommended by USPSTF:

- Over the past 2 weeks, have you felt down, depressed, or hopeless?

- Over the past 2 weeks, have you felt little interest or pleasure in doing things?

Antidepressant use (e.g., Prozac, Zoloft, Lexapro, Pamelor, Cymbalta)

More formal screening tools include:

- Beck Depression Inventory

- General Health Questionnaire

- Center for Epidemiologic Study Depression Scales (CES-D)

- Patient Health Questionnaire PHQ 9 (Quick Depression Assessment)

History of depression screener

In your lifetime, have you ever had 2 weeks or longer when nearly every day you felt sad, blue, or depressed for most of the day?

Did you ever tell a doctor or mental health specialist that you were feeling depressed?

Has a health provider ever diagnosed you with depression?

Current psychosocial stress

Short version of Cohen Perceived Stress Scale:

In the last month, how often have you

- felt that you were unable to control the important things in your life?

- felt confident about your ability to handle your personal problems?

- felt that things were going your way?

- felt difficulties were piling up so high that you could not overcome them?

Reponses: never; almost never; sometimes; fairly often; very often
Declarations
Acknowledgements
This work was supported by the CVD Network Grant from the Society for Women's Health Research, and partial support from the following:
Contracts from the National Heart, Lung, and Blood Institutes, nos. NHLBI: NO1 N01-HC-95162. NCATS 1U54RR003561, N01-HV-68161, N01-HV-68162, N01-HV-68163, N01-HV-68164, grants U0164829, U01 HL649141, U01 HL649241, T32HL69751, 1R03AG032631, UM1-HL087318 (subaward # 0008802F from UTHSC Houston); NIH-NHLBI: 1U01HL10556-01 from the National Institute on Aging, GCRC grant MO1-RR00425 from the National Center for Research Resources UN55ES6580F and grants from the Gustavus and Louis Pfeiffer Research Foundation, Danville, NJ, the Women's Guild of Cedars-Sinai Medical Center, Los Angeles, CA, the Ladies Hospital Aid Society of Western Pennsylvania, Pittsburgh, PA, and QMED, Inc., Laurence Harbor, NJ, the Edythe L. Broad Women's Heart Research Fellowship, Cedars-Sinai Medical Center, Los Angeles, California, the Barbra Streisand Women's Cardiovascular Research and Education Program, Cedars-Sinai Medical Center, Los Angeles, the Linda Joy Pollin Women's Healthy Heart Program, Los Angeles, California, the Erika Glazer Women's Heart Health Project, Cedars-Sinai Medical Center, Los Angeles, California. Dean's Distinguished Faculty Award—Emory University; Albert E. Levy Scientific Research Award—Emory University; Houston Endowment to Texas Heart Institute, Woodruff Foundation; Antinori Foundation.
Open AccessThis article is distributed under the terms of the Creative Commons Attribution 4.0 International License (http://creativecommons.org/licenses/by/4.0/), which permits unrestricted use, distribution, and reproduction in any medium, provided you give appropriate credit to the original author(s) and the source, provide a link to the Creative Commons license, and indicate if changes were made. The Creative Commons Public Domain Dedication waiver (http://creativecommons.org/publicdomain/zero/1.0/) applies to the data made available in this article, unless otherwise stated.
Authors' Affiliations
(1)
Johns Hopkins University, Baltimore, USA
(2)
Emory University School of Medicine, Atlanta, USA
(3)
Texas Heart Institute, Houston, USA
(4)
Brigham and Women's Hospital, Boston, USA
(5)
McMaster University, Hamilton, Canada
(6)
Wake Forest School of Medicine, Winston-Salem, USA
(7)
Mayo Clinic, Rochester, USA
(8)
Barbra Streisand Women's Heart Center, Cedars-Sinai Heart Institute, Los Angeles, USA
(9)
Division of Cardiology, Johns Hopkins Bayview Medical Center, Baltimore, USA