Sex differences in metabolic homeostasis, diabetes, and obesity
Biology of Sex Differences
2015
6:14
Received: 14 May 2015
Accepted: 30 July 2015
Published: 3 September 2015
Abstract
There are fundamental aspects of the control of metabolic homeostasis that are regulated differently in males and females. This sex asymmetry represents an evolutionary paradigm for females to resist the loss of energy stores. This perspective discusses the most fundamental sex differences in metabolic homeostasis, diabetes, and obesity. Together, the role of genetic sex, the programming effect of testosterone in the prenatal period in males, and the activational role of sex hormones at puberty produce two different biological systems in males and females that need to be studied separately. These sex-specific differences in energy homeostasis and metabolic dysfunction represent an untested source of factors that can be harnessed to develop relevant sex-based therapeutic avenues for diabetes, metabolic syndrome, and obesity.
Keywords
Testosterone
Brown Adipose Tissue
Metabolic Homeostasis
Increase Energy Intake
Hypothalamic Arcuate Nucleus
Conclusions
Until recently, most clinical research has been carried out under the assumption that the male can fulfill the function of the representative of the human species. Today, basic research using animal models is still performed mostly on males. However, as discussed in this perspective, the role of sex is a fundamental issue in the incidence and evolution of diabetes, obesity, and metabolic syndrome. The fact that many investigators avoid studying females to keep the experimental protocol more simple is in itself admission of sex differences. Together, the role of genetic sex, the organizational role of testosterone in the prenatal period, and the activational role of sex hormones at puberty define two different genetic and biological systems in male and females (Fig.
4
). This "sexome," as coined by Art Arnold and which is the sum of all sex-specific influences on gene networks and cellular systems [
77
], produces the emerging phenotypical sex differences in body composition and the mechanisms of energy homeostasis. Therefore, we need to study the system biology of each sex globally in order to have an appreciation of the sex-specific aggregate behavior of the genome. Indeed, transcriptome analysis of liver, muscle, and adipose tissues of mice reveals sex differences in expression of over half these genes [
78
]. Further, a metabolomic profiling of sex-specific differences in serum metabolite revealed major concentration differences between males and females for over three quarters of the metabolites studied [
79
]. Not surprisingly and as a result, there is a sex-specific response to anti-diabetic drugs in patients with type 2 diabetes. For example, males responded better to sulfonylurea treatment compared with women [
80
] and responders to rosiglitazone were more likely to be females than males [
81
].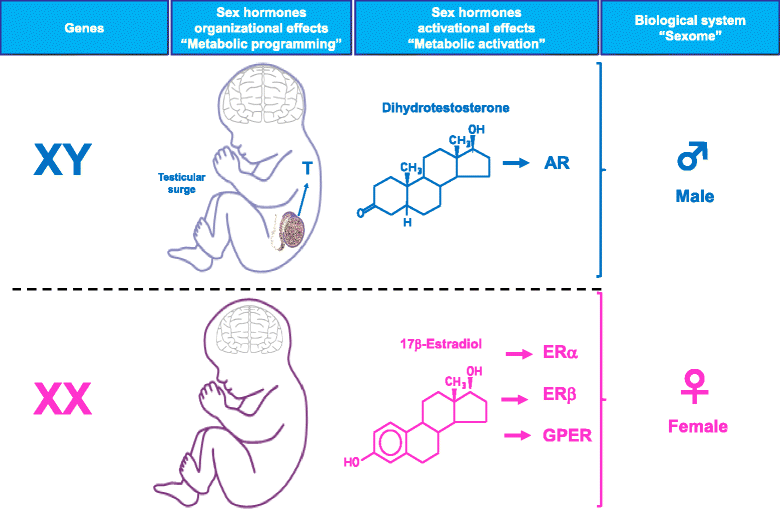 Since most sex differences related to diabetes and obesity in humans are also found in animal models, both sexes should be studied to elucidate the determinants of these fundamental biological sex differences from genes to hormones. This is a necessary step toward personalized, sex-specific medicine. In fact, there is a clear economic advantage in considering both males and females early in preclinical and translational research. Indeed, the identification of sex-specific differences in metabolic function and metabolic disease incidence and progression would provide an untapped source of factors that can be studied to prevent metabolic dysfunction and inform clinical trials. This knowledge will allow the development of relevant sex-based therapeutic avenues for diabetes, metabolic syndrome and obesity.
Declarations
Acknowledgements
We thank Loula Burton from Tulane University for the editorial assistance. We apologize to those investigators and studies we were unable to cite in this review because of space and reference limitations. This work was supported by grants from the National Institutes of Health (DK074970) and the American Diabetes Association (7-13-BS-101).
Open Access This article is distributed under the terms of the Creative Commons Attribution 4.0 International License (http://creativecommons.org/licenses/by/4.0/), which permits unrestricted use, distribution, and reproduction in any medium, provided you give appropriate credit to the original author(s) and the source, provide a link to the Creative Commons license, and indicate if changes were made. The Creative Commons Public Domain Dedication waiver (http://creativecommons.org/publicdomain/zero/1.0/) applies to the data made available in this article, unless otherwise stated.
Authors' Affiliations
(1)
Section of Endocrinology & Metabolism, Department of Medicine, Tulane University Health Sciences Center, New Orleans, USA