Sex differences in mood disorders: perspectives from humans and rodent models
Biology of Sex Differences
2014
5:17
Received: 22 October 2014
Accepted: 17 November 2014
Published: 7 December 2014
Abstract
Mood disorders are devastating, often chronic illnesses characterized by low mood, poor affect, and anhedonia. Notably, mood disorders are approximately twice as prevalent in women compared to men. If sex differences in mood are due to underlying biological sex differences, a better understanding of the biology is warranted to develop better treatment or even prevention of these debilitating disorders. In this review, our goals are to: 1) summarize the literature related to mood disorders with respect to sex differences in prevalence, 2) introduce the corticolimbic brain network of mood regulation, 3) discuss strategies and challenges of modeling mood disorders in mice, 4) discuss mechanisms underlying sex differences and how these can be tested in mice, and 5) discuss how our group and others have used a translational approach to investigate mechanisms underlying sex differences in mood disorders in humans and mice.
Keywords
Major depressive disorder
Sex difference
Corticolimbic
Somatostatin
Four core genotypes (FCG)
Gamma-aminobutyric acid (GABA)
Conclusions
There is clear evidence that women are more vulnerable to develop mood disorders compared to men. This sex difference seems to have a biological basis, as we have found sex differences in expression of mood-related genes in the brains of depressed subjects. Our work thus far suggests that a dynamic equilibrium exists between the effects of male sex chromosome complement to increase anxiety, which is opposed by the antianxiety effects of male circulating testosterone exposure. Figure
1
provides a schematic summarizing our interpretation of the findings described in the previous sections. Specifically, our work in humans and in mice shows that sex chromosome complement influences expression of SST and other GABA-related genes [
89
],[
116
]. Our mouse studies also show that while testosterone has a potent effect of decreasing anxiety-like behavior, it does not seem to be doing so via effects on GABA-, serotonin-, or dopamine-related gene expression [
89
],[
116
]. We hypothesize that testosterone acts to oppose the pro-anxiety effects of male sex chromosome complement by affecting the function of SST cells and/or the function of the local cortical microcircuitry (Figure
1
). Finally, we believe that preliminary studies using appropriate mouse models, with consideration of trait and state, as well as the multiple dimensions of mood-related behaviors, can provide a framework to systematically dissect the biological underpinnings of sex differences in mood in humans.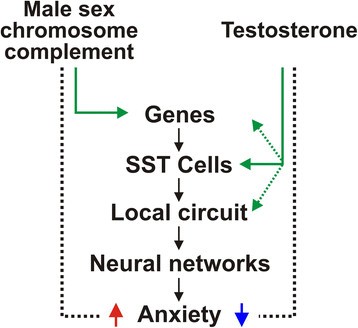 Abbreviations
DLPFC:

dorsolateral prefrontal cortex
eQTL:

expression quantitative trait loci
FCG:

four core genotypes
GABA:

gamma-aminobutyric acid
GAD1:

glutamate decarboxylase 1
GAD2:

glutamate decarboxylase 2
GAD65:

glutamate decarboxylase 65
GAD67:

glutamate decarboxylase 67
GDX:

gonadectomize
HPA:

hypothalamic pituitary adrenal
MDD:

major depressive disorder
SF-1:

steroidogenic factor 1
sgACC:

subgenual anterior cingulate cortex
SNP:

single nucleotide polymorphism
SSRI:

selective serotonin reuptake inhibitor
SST:

somatostatin
UCMS:

unpredictable chronic mild stress
Declarations
Acknowledgements
This work was supported by the National Institute of Mental Health MH084060 (ES), MH085111 (ES), and MH103473 (MLS). Marianne Seney in 2014 served as a consultant for NeuroPhage Pharmaceuticals, providing technique-based support.
Authors' Affiliations
(1)
Department of Psychiatry, Translational Neuroscience Program, University of Pittsburgh, Pittsburgh, USA
(2)
Center for Neuroscience, University of Pittsburgh, Pittsburgh, USA
(3)
Departments of Psychiatry, Campbell Family Mental Health Research Institute, Centre for Addiction and Mental Health, Pharmacology and Toxicology, University of Toronto, Toronto, Canada
Copyright
© Seney and Sibille; licensee BioMed Central Ltd. 2014
This article is published under license to BioMed Central Ltd. This is an Open Access article distributed under the terms of the Creative Commons Attribution License (http://creativecommons.org/licenses/by/4.0), which permits unrestricted use, distribution, and reproduction in any medium, provided the original work is properly credited. The Creative Commons Public Domain Dedication waiver (http://creativecommons.org/publicdomain/zero/1.0/) applies to the data made available in this article, unless otherwise stated.