Sex differences in behavioral decision-making and the modulation of shared neural circuits
Biology of Sex Differences
2012
3:8
Received: 7 December 2011
Accepted: 21 March 2012
Published: 21 March 2012
Abstract
Animals prioritize behaviors according to their physiological needs and reproductive goals, selecting a single behavioral strategy from a repertoire of possible responses to any given stimulus. Biological sex influences this decision-making process in significant ways, differentiating the responses animals choose when faced with stimuli ranging from food to conspecifics. We review here recent work in invertebrate models, including C. elegans, Drosophila, and a variety of insects, mollusks and crustaceans, that has begun to offer intriguing insights into the neural mechanisms underlying the sexual modulation of behavioral decision-making. These findings show that an animal's sex can modulate neural function in surprisingly diverse ways, much like internal physiological variables such as hunger or thirst. In the context of homeostatic behaviors such as feeding, an animal's sex and nutritional status may converge on a common physiological mechanism, the functional modulation of shared sensory circuitry, to influence decision-making. Similarly, considerable evidence suggests that decisions on whether to mate or fight with conspecifics are also mediated through sex-specific neuromodulatory control of nominally shared neural circuits. This work offers a new perspective on how sex differences in behavior emerge, in which the regulated function of shared neural circuitry plays a crucial role. Emerging evidence from vertebrates indicates that this paradigm is likely to extend to more complex nervous systems as well. As men and women differ in their susceptibility to a variety of neuropsychiatric disorders affecting shared behaviors, these findings may ultimately have important implications for human health.
Keywords
Sex differences
Neuromodulation
Decision-making
Invertebrates
Neuroscience
Neural circuits
Neuroethology
Conclusions
The evidence that modulated function of shared circuitry plays a central role in establishing sex differences in behavioral decision-making is strong and arises from diverse sources. Studies on the sex-specific interaction of feeding and mating drives has shown that competition between these behaviors is mediated, at least in part, through modulation in the sensitivity of shared olfactory structures. Competition between these drives further involves the complex interaction of hormonal, peptide, and monoamine signaling mechanisms, though the connection between these conserved neuromodulatory mechanisms and regulated sensory function is in many cases unclear. Sex-specific regulation of sensory function has also been implicated in mediating sex-specific dietary preference in a number of species. Again, monoaminergic signaling mechanisms have been implicated in regulating these behavioral sex differences, though the specific effects on sensory processing remain to be elucidated. Neuromodulatory systems, including insulin and hormonal signaling, have further been implicated in the regulation of sex differences in motor activity, suggesting that such sex differences may be linked to broader differences in motivational state of males and females. Finally, we have cited abundant evidence that the capacity for sex-specific behavior is in many cases present in both sexes. Studies of
Drosophila
courtship and rodent mating behavior have illustrated the idea that monoamine signaling can play an essential role in determining the sex-specific nature of social interactions. Together, this evidence indicates that neuromodulatory systems play a central role in implementing sex differences in shared circuit function and behavior (Figure
4
).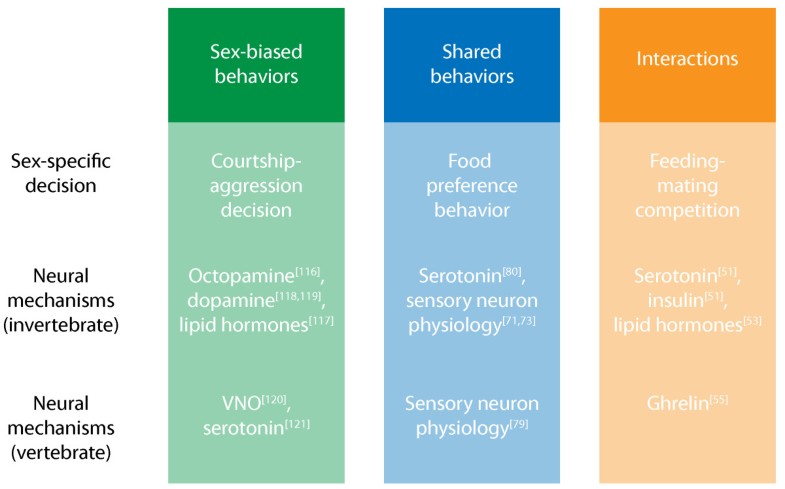 A crucial open question is the degree to which the expression of behavioral sex differences simply depends upon neuromodulation, as opposed to the notion that these differences emerge from sex differences in neuromodulatory signaling. Several cases indicate that the latter applies in at least some situations. A prime example would be the demonstration that male decision to fight, rather than court, other males in Drosophila is regulated by the action of the sexual differentiation factor fruitless in octopamine neurons [116], indicating that regulated octopaminergic transmission determines the sex-typical outcome of this decision-making process. Other cases can be more ambiguous. For example, it is known that sexual differentiation of sensory neurons is critical to regulating sex-typical olfactory preference decisions in C. elegans [78]. It remains unclear, however, whether sex-specific sensory neuron function results from sex-specific neuromodulation. It is easy to imagine that changes in the expression of monoamine or peptide receptors, as occurs in the sensory neurons of fasted Drosophila [36], could play an important role in this process. However, it remains to be seen if this is indeed the case. Examples such as this highlight the fact that the role of shared circuitry in mediating sex-biased or sex-specific behaviors is often poorly defined. Indeed, the extent to which anatomically similar circuitry is modified at the level of fine-scale connectivity, or even at the molecular level (e.g., differential expression of neurotransmitter receptors), is poorly defined in any system. As such modifications may be crucial to establishing adaptive sex differences in animal behavior, a concerted research effort to identify the full extent of these sex differences in animal nervous systems is warranted.
An alternative to the model that sex differences in neuromodulation mediate behavioral differences is that sexual differentiation of shared circuitry acts in parallel to these neuromodulatory mechanisms. As sexual differentiation occurs in large part through regulated gene expression, there are numerous ways in which this process could alter neural function outside of direct effects on neuromodulator signaling. For example, a shared circuit may require neuromodulatory input for its normal function, but be sexually differentiated in its intrinsic excitability or synaptic partner choice, leaving the neuromodulatory input essentially unchanged. A particularly intriguing possibility in this vein is that sex-specific hormones may themselves directly participate in neuromodulation through mechanisms acting in parallel to conventional monoamine and neuropeptide modulators. Accumulating evidence indicates that sex hormones in vertebrates have diverse actions on neural circuitry outside of regulating gene expression, including activation of ion conductances [122]. Indeed, it has been known for some time that molecules such as 17-β-estradiol can have rapid effects on the reproductive behaviors of rodents, modulating the motivation and performance of these behaviors on a minute-by-minute basis [123]. Interactions of estradiol with neurotransmitter receptors, such as GABA, NMDA, and dopamine receptors, have been implicated in mediating the rapid regulation of lordosis in female rats [123]. Further, it has been suggested that monoamine neurotransmitters such as dopamine can modulate sexual receptivity in female rats by binding to steroid receptors themselves [124], reinforcing the idea that hormonal and monoamine systems interact extensively in the regulation of behavior. Sex hormones may thus act as neuromodulators themselves, shaping the activity of neural networks on a relatively rapid time scale. Evidence from invertebrate models suggests that these roles for hormonal regulators participate in the regulation of sex-specific behavior may be broadly conserved across animal species. In Drosophila, ecdysone has been implicated as an important regulator of sexual preference in males [117], and juvenile hormone has been shown to regulate sex differences in locomotor activity [99]. In C. elegans, the nuclear hormone receptor DAF-12 is capable of "activating" male mate-searching behavior [53]. Thus, lipid-derived hormones play an important (and perhaps conserved) role in the rapid sex-specific modulation of behavior in a broad array of animal species. Invertebrate models provide an important opportunity to gain insight into the mechanisms underlying the ability of these molecules to orchestrate behavioral change.
Significantly, the modulatory pathways that mediate sexual regulation of behavior may also give rise to sex bias in the susceptibility to neurological and mental health disorders in humans. Altered neuromodulatory signaling has been implicated in a wide variety of mental health disorders, including schizophrenia, depression, ADHD, and autism [21–24], disorders that also exhibit significant sex-bias in their incidence [19]. Notably, the behavioral capacities affected by these disorders are not sex-specific, raising the possibility that subtle sex differences in the organization or function of neural structures mediating shared behaviors may underlie this sex bias. A number of the invertebrate studies cited above have indicated that sex differences in neuromodulation can alter behavioral processes affected by these disorders, such as sensory perception, motor activity and arousal, and social interactions. While these organisms cannot directly recapitulate the complexity of human behavioral disorders, numerous parallels between sex differences in these animals suggest that core mechanisms mediating behavioral sex differences are conserved. Supporting this idea, a number of these findings have been extended to explain sex differences in the behavior of vertebrate species, including the roles of monoamine transmitters in regulating sex-specific social behaviors, of modulated sensory function in mediating sex differences dietary preference, and of peptide neurotransmitters in regulating the competition between shared and sex-specific behaviors.
Together, these findings suggest that investigating the mechanistic underpinnings of behavioral sex differences in invertebrates can shed important light on the sources of sex bias in human neurological and behavioral disorders, particularly those affecting shared behaviors. However, significant differences exist in sex-determination mechanisms of even closely related species [125], raising questions about whether mechanisms regulating sex-specific behavior may be conserved. For invertebrate and vertebrate species where sex determination is well-understood, including C. elegans, Drosophila melanogaster, and Mus musculus, there appears to be little conservation in many of the molecular and genetic mechanisms involved [126]. An important exception to this general rule are a family of genes, the DM-domain transcription factors, which have been implicated in the sex-specific development of a variety of invertebrate and vertebrate species [126–128] (including humans [129–131]). Indeed, in both Drosophila and C. elegans, DM genes play important roles in the sexual differentiation of neural circuitry and behavior [132–135], hinting that they may have similar roles in vertebrates as well.
Thus an appealing model, based initially in theory [136] and subsequently substantiated by the discovery of the conservation of DM genes [127], is that upstream mechanisms of sex determination are highly divergent but downstream effectors of sexual differentiation can be conserved [126, 136, 137]. In this sense, the distinct chromosome-counting mechanisms of invertebrates and the Sry- and hormone-driven pathways of mammals may converge directly or indirectly on conserved factors, including DM genes, to bring about specific differences in neural development and circuit modulation. For the reasons discussed above, neuromodulatory genes—e.g., neuropeptides or their receptors—are particularly attractive candidate targets for regulation by cell-autonomous and hormone-mediated sexual differentiation pathways. Though it remains to be seen whether the neuromodulatory mechanisms that help implement sex differences in behavioral decision-making reflect evolutionary conservation or convergence, investigating the mechanisms that establish sex differences in the behavioral decision-making of invertebrates will enrich our understanding of the astonishing flexibility and adaptability of nervous systems. Even in the absence of direct conservation, insights from invertebrates may yet direct us towards general principles of organization and function that underlie these properties.
Declarations
Acknowledgements
We are grateful to members of the Portman laboratory for ongoing interactions that contributed to the ideas discussed here. We apologize to those whose work we were unable to cite owing to space constraints. Work in the Portman laboratory is supported by grants from the NSF (IOS 0920024) and NIH (R01 GM086456).
Authors' Affiliations
(1)
Center for Neural Development and Disease, School of Medicine and Dentistry, University of Rochester, Rochester, USA
(2)
Department of Biomedical Genetics, School of Medicine and Dentistry, University of Rochester, Rochester, USA
(3)
Department of Biology, University of Rochester, Rochester, USA
(4)
Janelia Farm Research Campus, Ashburn, USA
Copyright
© Mowrey and Portman; licensee BioMed Central Ltd. 2012
This article is published under license to BioMed Central Ltd. This is an Open Access article distributed under the terms of the Creative Commons Attribution License (http://creativecommons.org/licenses/by/2.0), which permits unrestricted use, distribution, and reproduction in any medium, provided the original work is properly cited.